Home Sales Post Biggest Jump Since 1980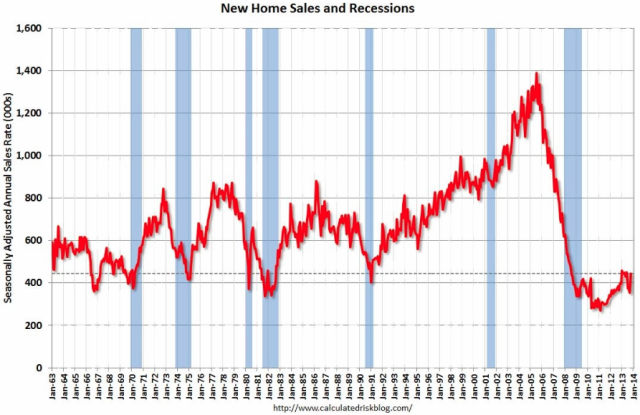 Even with higher interest rates and lower affordability, sales of new single-family homes in the United States posted their biggest jump in more than three decades.
On Wednesday, the U.S. Census Bureau reported that purchases of new homes, measured by contracts signed, increased 25.4 percent to a seasonally adjusted 441,000-unit pace in October, compared to the September rate of 354,000 units. That is the biggest gain since 1980. Home sales were up 21.6 percent from a year earlier, but as the chart above shows, the housing market is still far below its glory days.
The results were better than expected. On average, economists estimated home sales to come in at a 425,000-unit pace. However, purchases of new homes in July and August were the two weakest months this year, while the pace of sales in July was the worst month since October 2012 and the biggest miss of expectations since May 2010. Adding insult to injury, sales in July and August were revised lower by a total of 59,000 units.
The U.S. Census Bureau also reported the median sales price on new houses sold in October was $245,800, down from $257,400 in September. The average sales price came in at $321,700, well above the average of $285,400 in October 2012.
The seasonally adjusted estimate of new houses for sale at the end of October was 183,000 units. This represents a supply of 4.9 months at the current sales rate, up from only 3.9 months at the beginning of the year. The all time high for supply hit 12.1 months in January 2009. A supply of around 6 months is typically considered to be healthy.
In addition to higher prices, the trend of higher interest rates does not appear to be easing anytime soon. According to the Mortgage Bankers Association's latest report, the average interest rate for a 30-year fixed-rate mortgage recently increased to 4.51 percent, its highest level in about a month and well above the 3.52 percent seen a year earlier.
Don't Miss: Top 10 Metro Areas With Surging Home Prices
Follow Eric on Twitter @Mr_Eric_WSCS