Homes Prices Gain for the 18th Consecutive Month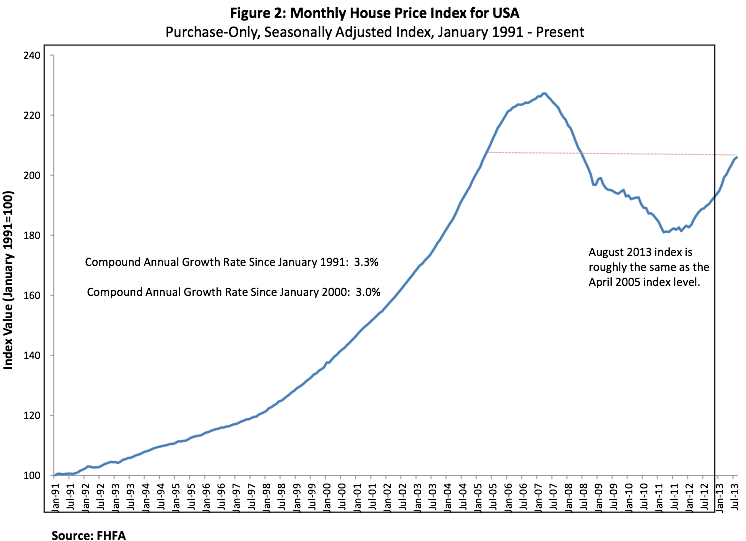 Home prices in the United States continued to rise in August, but lower home affordability should not be overlooked. According to the latest Federal Housing Finance Agency report, home prices increased 0.3 percent on a seasonally adjusted basis in August compared to the previous month. That is the slowest pace in almost a year. However, the House Price Index has now logged 18 consecutive monthly price increases.
The FHFA index is based on single-family homes with mortgages that have been sold to or guaranteed by Fannie Mae or Freddie Mac. The index does not provide specific prices for homes, but the index has not posted a decline in national home prices on a monthly basis since January 2011.
In the second quarter, home prices increased 2.1 percent from the previous quarter. The FHFA's expanded-data index — which includes transaction information from county recorder offices and the Federal Housing Administration — posted a gain of 2.4 percent for the second quarter.
Over the last four quarters, that index is up 7.5 percent. Home prices are now back to April 2005 levels, but still remain 9.4 percent below the peak made in April 2007. Compared to last year, home prices in August jumped 8.5 percent.
Home prices were mixed across the nation. The advance in August was led by an 18.2 percent surge in the Pacific region year-over-year, which includes Hawaii, Alaska, Washington, Oregon, and California. Prices in the Mountain region jumped 13.8 percent and the South Atlantic region gained 8.5 percent from a year earlier. The Middle Atlantic was the weakest region with a yearly gain of only 4.0 percent.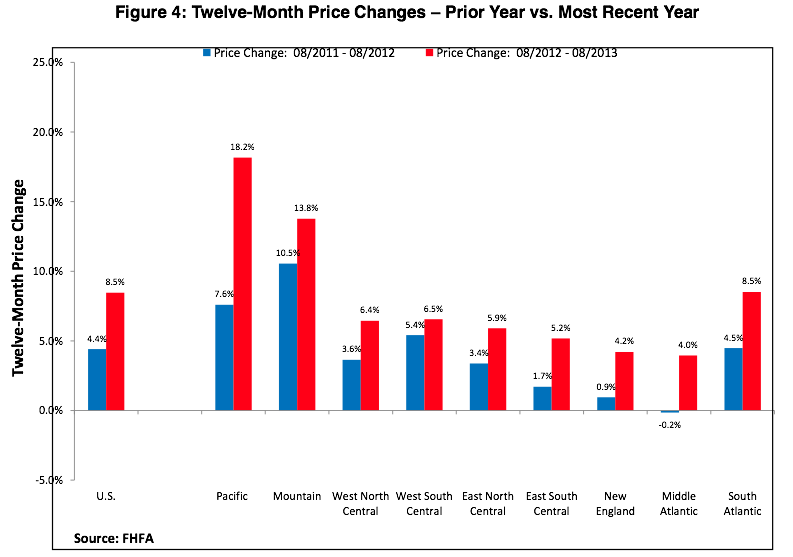 While the housing market is due to slow its impressive price gains, higher interest rates hit affordability levels over the summer. Between the beginning of May and the end of June, the average interest rate for a 30-year fixed-rate mortgage surged from 3.59 percent to 4.68 percent. According to the Mortgage Bankers Association's latest report, for the week ended September 13, loan applications have declined for 17 of the past 24 weeks.
At least one home builder believes interest rates will not be an ongoing issue. "The fundamentals of the current housing recovery are firmly in place, supported by low inventory levels, an improving economy and positive demographic trends," said Jeffrey Mezger, KB Home (NYSE:KBH) CEO, in a statement. "Given these factors, we believe that the recent slower pace of the recovery caused by an uptick in mortgage interest rates is a temporary effect, and we expect to see steady upward demand for housing as consumers adjust to both higher rates and pricing."
In morning trading, home improvement giants Lowe's (NYSE:LOW) and Home Depot (NYSE:HD) edged slightly higher, while shares of PulteGroup (NYSE:PHM), Lennar (NYSE:LEN), and D.R. Horton (NYSE:DHI) all jumped about 1 percent.
Don't Miss: Are the Super Rich Still Buying Stocks?
Follow Eric on Twitter @Mr_Eric_WSCS