Honda Can't Fix Recalled Minivans Until March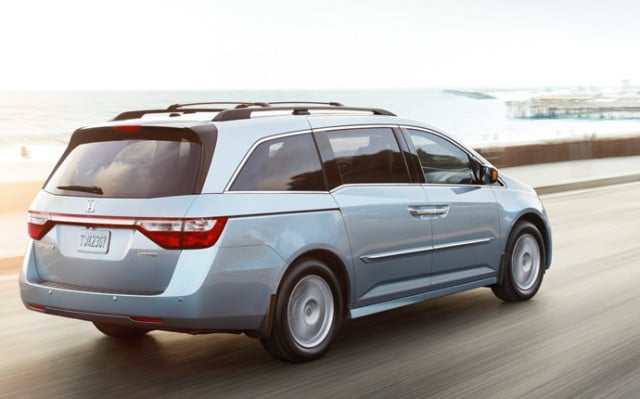 Honda Motor Co. (NYSE:HMC) won't be able to replace the parts on faulty brake systems in its more than 344,000 recalled Odyssey minivans in the U.S. until March, The Detroit News reports.
The defect affects 344,187 2007 through 2008 Odyssey minivans in the U.S., causing the vehicles to brake heavily and unexpectedly without the driver pressing the brake pedal and without the brake lights coming on, which is an obvious serious safety risk even though no accidents or injuries have been reported. The problem is caused by the car's electronic system allowing pressure to build in the braking system and be released into the brake circuit, which causes the car to slow down or stop without any action from the driver.
The National Highway Traffic Safety Administration opened an investigation into the matter in June, after receiving 22 complaints from Odyssey drivers. This is the second automatic brake system recall that Honda has faced recently: Last March the company recalled some 250,000 vehicles in the U.S — including the Acura RL sedan, the Acura MDX crossover SUV, and the Honda Pilot SUV — due to complications in the brake system.
"Due to the large volume of new parts needed to repair owner's vehicles, the necessary parts will not be available until spring of 2014. As a result, owners will be informed of the potential existence of the defect in an initial notification letter. The initial letter will also include instructions to owners about procedures that they can follow to properly calibrate the (electronic) system to prevent an unintended braking event, as well as instructions about what to do if the event occurs while driving," Honda said in a statement, according to The Detroit News. The company will begin contacting the drivers of affected vehicles about having the brake system repaired in March.
In addition, Honda is separately recalling 374,000 Honda Odyssey and Acura MDX vehicles in the U.S. due to the vehicles' airbags accidentally being deployed, the company announced at the end of September. The company is recalling 318,000 Odyssey vehicles from the 2003 and 2004 model years and 56,000 Acura MDX vehicles from the 2003 model year. Honda said the malfunction is being caused by a problem in the vehicles' electrical systems, and the company will fix the issue by installing an electrical noise filter next to the SRS control unit at no charge.
The airbag problem can be fixed right away, but brake problems will have to wait until the spring. The news is worrisome not only for drivers of the affected vehicles but for Honda, as well, as the company is trying to move past recent recalls and gain a reputation as a maker of safe vehicles.
Follow Jacqueline on Twitter @Jacqui_WSCS
Don't Miss: 10 Automobiles That Were Surprise Stars in October.