Honda Seeks to Increase Two-Wheeler Sales and 4 Auto Stocks Making Headlines Now
Ford Motor Co. (NYSE:F): Current price $13.12
Ford Motor Company announced that Yukontorn 'Vickie' Wisadkosin has been elevated to the position of Managing Director, Ford Thailand, with immediate effect. She will continue to report directly to Matt Bradley, President of Ford ASEAN.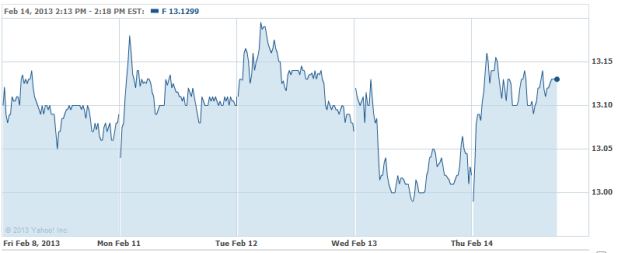 General Motors Company (NYSE:GM):  Current price $27.87
General Motors said that their profit during the fourth quarter increased slightly as continued losses in Europe offset positive results in North America. GM, the nation's biggest car maker, said they had a net income of $900 million in the quarter as compared to $500 million in the same period a year earlier. Revenue increased to $39.3 billion, up from $38 billion.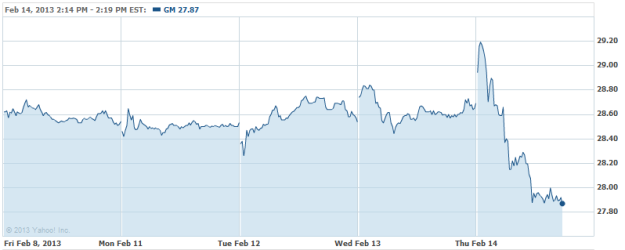 Toyota Motor Corporation (NYSE:TM): Current price $102.90
Toyota Motor Corporation North America announced that they have reached a settlement agreement with the Attorneys General of 29 states and one United States territory to resolve issues related to recalls conducted by the company from 2005 to 2010. In the agreement, Toyota has committed to take steps to make vehicle information more easily accessible to consumers to help them operate their vehicles safely and make more informed choices. Toyota also agreed to continue other customer-focused initiatives. As part of this settlement, which the company announced the TMC Board had approved in December 2012, Toyota will pay $29 million to be divided among the states and the territory participating in the agreement.

Honda Motor Co., Ltd. (NYSE:HMC):  Current price $37.51
Honda Motor Co. is seeking to quadruple motorbike and scooter sales in India by 2020 and overtake former partner Hero MotoCorp Ltd. as rising incomes in rural areas boost demand for personal transportation. Honda plans to introduce a two-wheeler model every three months and expand their dealerships to reach about 10 million in sales, or a third of the 30 million-unit market by 2020, according toTatsuhiro Oyama, senior managing officer in charge of motorcycle operations. The Tokyo-based company's Indian deliveries rose 40% last year to 2.52 million units.

Tesla Motors, Inc. (NASDAQ:TSLA): Current price $38.55
Toyota is expected to book a narrower loss than a year ago when they report their fourth quarter earnings on Wednesday, February 20, 2013. Analysts are expecting a loss of 64 cents per share, up from a loss of 78 cents per share a year ago.

Don't Miss: Has GM's Recovery Hit a Snag?