Honda to Offer Eyes Free and 4 Auto Stocks Making Headlines Now
Ford Motor Co. (NYSE:F):  Current price $12.94
According to Bloomberg, a widening loss in Europe sent Ford Motor Co.'s shares down the most they have been in seven months, taking the market's attention away from their fourth quarter earnings that had beaten estimates. Shares for Ford slid 4.6% to $13.14 yesterday, the biggest one-day drop since June 29, and wiped out most of their gains for this year.

General Motors Company (NYSE:GM):  Current price $28.12
At General Motors Company's Global Powertrain Engineering headquarters in Pontiac, the company is about to put out the "Help Needed" signs. Officials with the automaker are keeping quiet, but Action News has learned that GM will announce they are adding 300 new jobs at the facility.

Are these stocks a buy or sell? Let us help you decide. Check out our Stock Picker Newsletter now.
Toyota Motor Corporation (NYSE:TM):  Current price $95.87
Toyota Motor Corporation voluntarily recalled 22,869 Lexus cars in China because of defects with windshield wipers, the biggest call back since a new law broadening manufacturer liability came into force this year.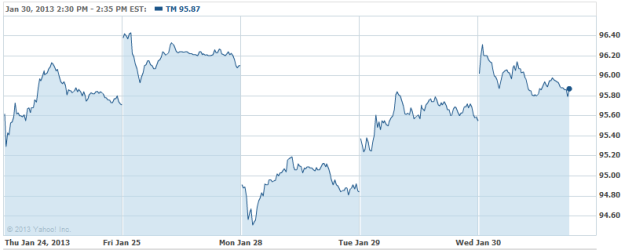 Honda Motor Co., Ltd. (NYSE:HMC):  Current price $38.24
Good news for Honda fans – the automobile manufacturer has just revealed which of their 2013 vehicles will receive support for Apple's hands-free extension of Siri, known as Eyes Free. The feature will be available as a dealer-installed option for the Honda Accord along with the RDX and ILX from Acura.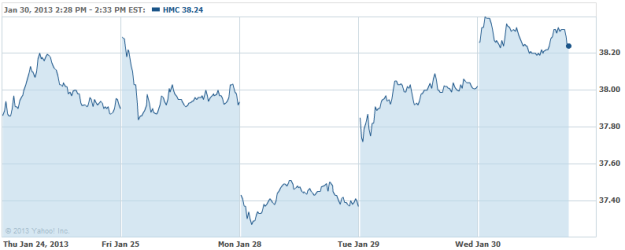 A123 Systems, Inc. (NASDAQ:AONE): Current price $0.0298
According to the Detroit News, the United States has approved the sale of most of A123 Systems' assets to Wanxiang Group, a move that will keep about 1,000 jobs in Michigan.

Don't Miss: What's Next for Ford?