Honda Unveils New Motorcycle Line and 3 Auto Stocks Making Headlines Now
Ford Motor Co. (NYSE:F): Current Price: $13.11
The company sees no major impact on February U.S. auto sales as a result of the weekend storm that hit the Northeast, according to a company executive's statement on Sunday.

General Motors Company (NYSE:GM): Current Price: $28.52
Prior to GM's announcement of its Q4 earnings on Thursday, February 14, analysts have continued to become more wary and expectations have dropped over the past month to earnings of 50 cents per share from earnings of 52 cents per share.
Are these stocks a buy or sell? Let us help you decide. Check out our Stock Picker Newsletter now.

Toyota Motor Corporation (NYSE:TM): Current Price: $105.87
According to recent speculation from Toyota City concerning the Toyota Supra successor, it is possible that the flagship is powered by a turbocharged 2.5-liter I-4 hybrid producing a minimum of 400 hp. Also, the company might reveal the Supra production car late in 2017 and it is possible that a concept version will be revealed as soon as this year's Tokyo Motor Show.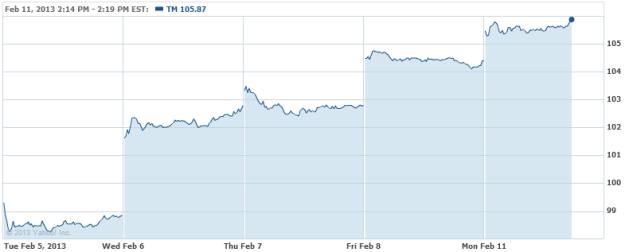 Honda Motor Co., Ltd. (NYSE:HMC): Current Price: $38.47
Honda revealed its all-new motorcycle line for 2014, the midsized CTX series. The new 670-cc models split conventional classifications and will offer an automatic transmission and antilock brakes in an affordable bike that is appropriate for newer riders and those seeking a motorcycle with the newest features for a budget price.

Don't Miss: Could US Airways-American Airlines Merger Go Through This Week?