Honeywell International Earnings: Shareholders in the Honey Pot
S&P 500 (NYSE:SPY) component Honeywell International, Inc. (NYSE:HON) reported net income above Wall Street's expectations for the first quarter. Honeywell International Inc. is a technology and manufacturing company which offers aerospace products and services, control, sensing and security technologies for buildings, homes and industry, turbochargers and automotive products.
Don't Miss: Wall St. Cheat Sheet's newest Feature Trades of the Month!
Honeywell International Earnings Cheat Sheet for the First Quarter
Results: Net income for the aerospace/defense products and services company rose to $705 million (88 cents/share) vs. $386 million (50 cents/share) YoY. A rise of 82.6% from the year earlier quarter.
Revenue: Rose 14.6% to $8.91 billion YoY.
Actual vs. Wall St. Expectations: HON beat the mean analyst estimate of 82 cents/share. Estimates ranged from 79 cents per share to 85 cents per share.
Quoting Management: "Honeywell is executing well and delivering terrific results, highlighted by another quarter of record organic sales growth, margin expansion, and higher than expected earnings per share," said Honeywell Chairman and Chief Executive Officer Dave Cote. "I'm very pleased with our start to the year and the continued momentum we're seeing across the portfolio. We had a particularly robust finish to the quarter with strength in our short-cycle businesses, as well as growth in commercial aerospace spares and the residential and commercial retrofit businesses. Orders in our short-cycle businesses have now increased eight consecutive quarters and our long-cycle backlog continues at near record levels."
Key Stats:
Last quarter's profit increase breaks a streak of two consecutive quarters of year-over-year profit decreases. In the fourth quarter of the last fiscal year, net income fell 4.2% while the figure dropped three quarters ago.
Competitors to Watch: Boeing Company (NYSE:BA), United Technologies Corp. (NYSE:UTX), General Electric Company (NYSE:GE), BorgWarner Inc. (NYSE:BWA), Rockwell Collins (NYSE:COL), Lockheed Martin Corp (NYSE:LMT), and Johnson Controls Inc. (NYSE:JCI).
Today's Performance: Shares of HON are trading at $60.66 as of April 21, 2011 at 11:50 AM ET, up 3.2% from the previous closing price of $58.74.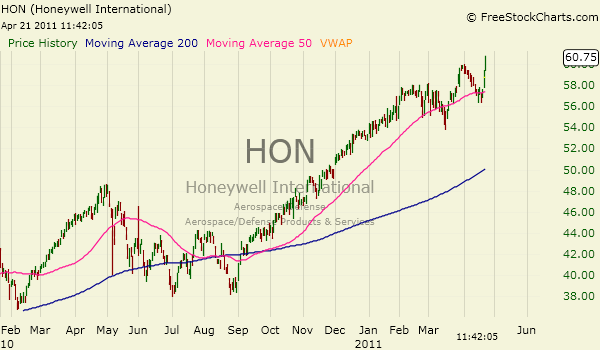 Don't Miss Wall St. Cheat Sheet's newest Feature Trades of the Month!