Honeywell International Evaluates Targets and 3 Stocks Hitting 52-Week Highs
Carlisle Companies Incorporated (NYSE:CSL): Closing price $67.38
Carlisle has posted fourth quarter revenue at $845.3 million, against a consensus of $826.6 million. Income was positively impacted by organic sales growth, savings from the Carlisle Operating System and operational improvements, particularly at Transportation Products. Negatively impacting fourth quarter results were 8 cents per diluted share of after-tax charges for pension settlement and business development expense incurred at Corporate. The effective tax rate of 32 percent in the fourth quarter compared to a rate of 16 percent year-over-year from 2011, which had been favorably impacted by tax benefits from excess foreign tax credits resulting from restructuring. Shares closed up 3.95 percent on the day at $67.38, and have traded in a 52-week range of $46.69 to $65.64.
Entercom Communications Corp. (NYSE:ETM): Closing price $8.09
The firm posted fourth quarter adjusted earnings of 31 cents, with a consensus of 25 cents. Shares closed up 4.66 percent on the day at $8.09, having been traded in a 52-week range of $4.74 to $8.28.

Google (NASDAQ:GOOG): Closing price $785.37
Google  must supply funds to all European publishers whose links appear on Google, said the chief of the European Publishers Council on Thursday, according to Reuters. Last week the firm offered to pay $80 million into a special fund to aid French publishers in developing their presence on the Internet. Shares closed up 1.48 perecnt on the day at $785.37, and have been traded in a 52-week range of $556.52 to $778.81.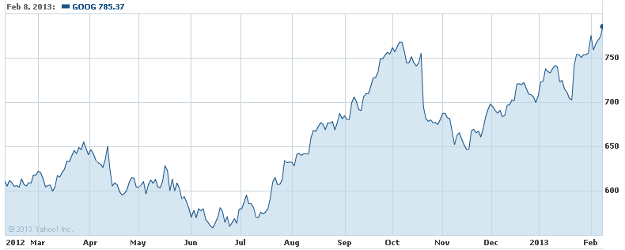 Honeywell International (NYSE:HON): Closing price $70.53
Honeywell International is looking at around 100 companies as potential purchases, concentrating on deals under $1 billion, said Chief Executive Dave Cote, adding that while the prospects are valued at as much as $20 billion, they're unlikely to acquire anything that big, due to the risk of integration challenges and also paying too much. Shares closed up 0.23 percent on the day at $70.53, having been traded in a 52-week range of $52.21 to $70.44.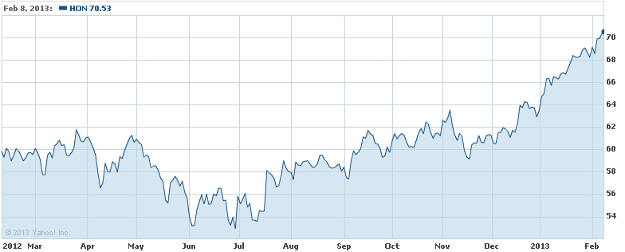 Don't Miss: Auto Loans and Student Debt Bubble Fuel Consumer Borrowing.