Hot Earnings: Google and Chipotle Surge Higher, AMD Plunges 7%
Shares of Capital One (NYSE:COF) jumped nearly 2 percent in late afternoon hours. Capital One reported quarterly earnings of $1.86 per share, topping estimates calling for $1.80 per share. Revenue was also better than expected. "Our businesses continue to deliver attractive, sustainable, and resilient returns and generate capital on a strong trajectory," said Richard D. Fairbank, chief executive officer, Capital One. "We remain focused on important levers that will sustain and improve our profitability and our ability to distribute capital." Capital One's net interest margin also increased 6 basis points to 6.89 percent.

Google (NASDAQ:GOOG) shares surged more than 8 percent in late afternoon trading. Google reported quarterly earnings of $10.74 per share, easily beating Wall Street's estimate of $10.34 per share. Google's revenue totaled $14.89 billion, compared to estimates of $14.79 billion. "Google had another strong quarter with $14.9 billion in revenue and great product progress," said Larry Page, Google CEO. "We are closing in on our goal of a beautiful, simple, and intuitive experience regardless of your device." Google shares are now at all-time highs.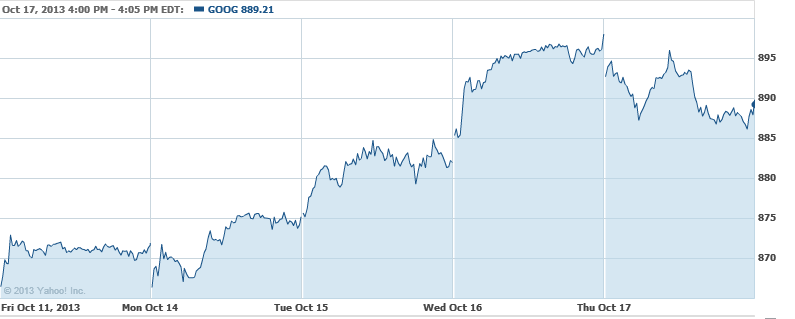 Shares of Chipotle Mexican Grill (NYSE:CMG) gained 7.7 percent in late afternoon hours. Chipotle announced quarterly earnings of $2.66 per share, below estimates calling for $2.87 per share. However, revenue of $827 million was better than expected. "Our unique food culture continues to resonate with our customers. We are proud of the investments we have made over the years to source sustainably raised ingredients, which allows us to serve delicious food. By sourcing the best possible ingredients and cooking them according to classic cooking techniques we continue to demonstrate that just because food is served fast, it doesn't have to be a typical fast food experience," said Steve Ells, Founder, Chairman, and co-CEO of Chipotle. Shares of Chipotle are also trading at all-time highs.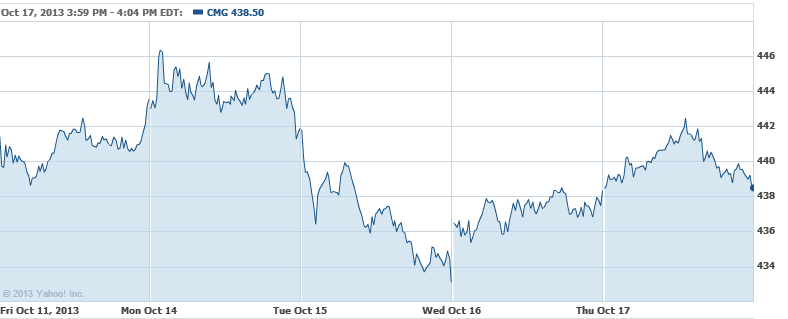 Advanced Micro Devices (NYSE:AMD) shares plunged 7.3 percent in late afternoon hours. AMD posted better-than-expected earnings and revenue. However, the company's gross margin is expected to decline for the fourth quarter. "AMD returned to profitability and generated free cash flow in the third quarter as we continued to successfully execute the strategic transformation plan we outlined a year ago," said Rory Read, AMD CEO and president. "We achieved 26 percent sequential revenue growth driven by our semi-custom business and remain committed to generating approximately 50 percent of revenue from high-growth markets over the next two years. Developing industry-leading technology remains at our core, and we are in the middle of a multi-year journey to redefine AMD as a leader across a more diverse set of growth markets."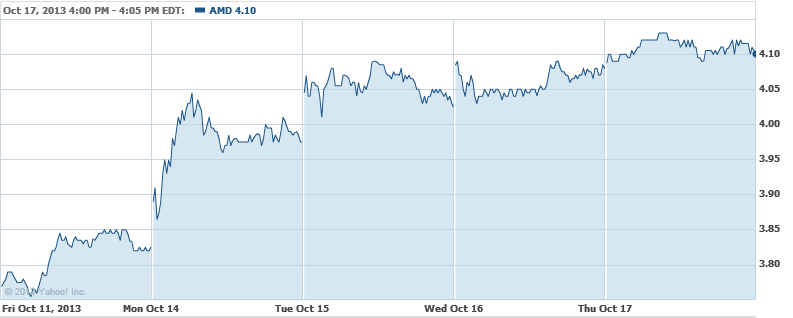 Don't Miss: David Einhorn: Apple Is Still a Winner
Follow Eric on Twitter @Mr_Eric_WSCS