Hot Stocks: Twitter Soars 73%, Disney and Groupon Trade Lower
Shares of Priceline.com (NASDAQ:PCLN) gained more than 2 percent in late afternoon hours, following a brief selloff. Priceline.com reported quarterly earnings of $17.30 per share on revenue of $2.27 billion. Analysts expected earnings of $16.15 per share on revenue of $2.22 billion. "The Priceline Group finished the summer travel season with strong growth and operating performance," said Jeffery H. Boyd, Chairman and Chief Executive Officer of The Priceline Group. "Booking.com and Agoda posted solid third quarter results leading to 36 percent room night growth for the Group, and the U.S. business of Priceline.com showed positive momentum with accelerating bookings growth."

Twitter (NASDAQ:TWTR) shares surged almost 73 percent on its first day of trading on the New York Stock Exchange. Twitter was priced at $26 per share on Wednesday night, 30 percent higher than the top of the $17-$20 per share price range initially floated. After climbing as high as $50.09 in early trading, shares of Twitter calmed down by the early afternoon and the stock was back to hovering around its opening price of $45.10. Twitter has a market cap of about $24.5 billion.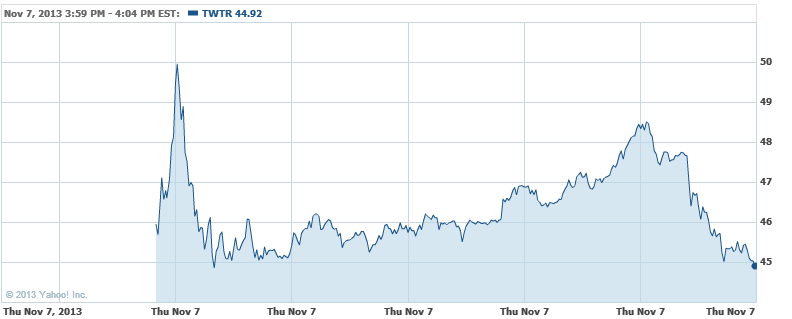 Shares of Walt Disney (NYSE:DIS) fell nearly 3 percent in late afternoon hours, despite releasing impressive financial results. Walt Disney reported quarterly earnings of 77 cents per share, up 12 percent from 68 cents per share a year earlier. Revenue also increased 7 percent to $11.57 billion from $10.78 billion last year. Walt Disney beat estimates on the top and bottom line."We're extremely pleased with our results for Fiscal 2013, delivering record revenue, net income and earnings per share for the third year in a row," said Robert A. Iger, Walt Disney CEO. "It was another great year for the Company, both creatively and financially, and we remain confident that we are well positioned to continue our strong performance and drive long-term shareholder value."

Groupon (NASDAQ:GRPN) shares dropped 5 percent on Thursday and continued to decline in late afternoon trading. Groupon reported better-than-expected quarterly earnings of 2 cents per share, but revenue of $595 million was below Wall Street's estimate of $616 million. "Our Local business showed continued strength in the quarter, particularly in North America," said Eric Lefkofsky, Groupon CEO. "Mobile adoption continued to increase in Q3, reflected in our record 9 million app downloads. We're pleased with our progress, but we still have work to do as we transform the business from our daily deal email roots to a full e-commerce marketplace. We're also excited to announce today that we've signed an agreement to acquire Ticket Monster, one of the leading e-commerce companies in Korea."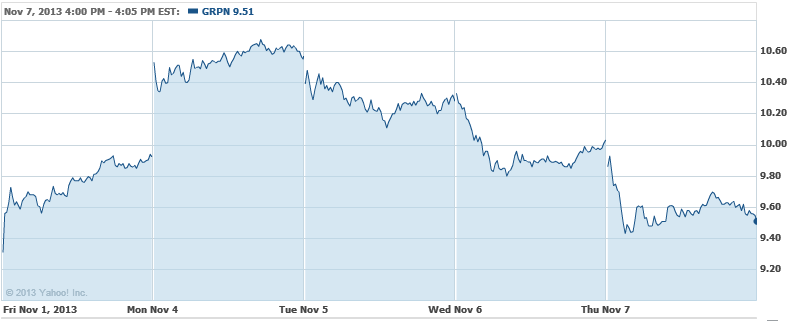 Don't Miss: Is the Next Housing Bubble Already Here?
Follow Eric on Twitter @Mr_Eric_WSCS