Housing Market Feels Impact of Government Shutdown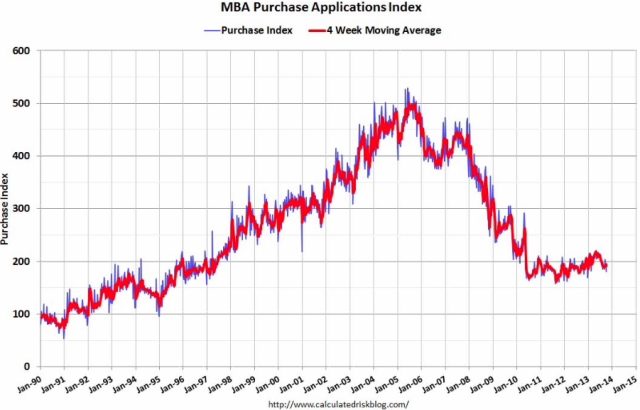 Despite a slight rise in interest rates, mortgage applications in the United States managed to climb higher last week. However, the government shutdown is not helping the real estate market, as some loan processing functions are delayed.
According to the Mortgage Bankers Association's latest report, for the week ended October 11, loan applications increased 0.3 percent on a seasonally adjusted basis from one week earlier — only the seventh gain in 23 weeks. The figure includes both refinancing and home purchase demand and covers more than 75 percent of all domestic retail residential mortgage applications.
"The government shutdown had a notable impact on the mortgage market last week. Purchase applications for government programs dropped by more than 7 percent over the week to their lowest level since December 2007, and the government share of purchase applications dropped to its lowest level in almost three years," said Mike Fratantoni, the Mortgage Bankers Association's vice president of research and economics. "Conventional purchase applications dropped as well, but not to the same extent, falling almost 4 percent for the week."
The industry group's refinance index increased 3 percent from a week earlier and is at its highest level since the beginning of August. Overall, the refinance share of mortgage activity accounted for 66 percent of total applications, which is 2 percent higher from a week earlier and 9 percent above its lowest level since April 2010. However, the unadjusted purchase index fell by 5 percent, representing the third consecutive week the index was below year-ago levels.
The average interest rate for a 30-year fixed-rate mortgage decreased from 4.42 percent to 4.46 percent. The most recent average rate for a 15-year fixed-rate mortgage came in at 3.53 percent, compared to 3.52 percent the week before. Between the beginning of May and the end of June, the average interest rate for a 30-year fixed-rate mortgage surged from 3.59 percent to 4.68 percent but has since stabilized.
In Wednesday morning trading, shares of home builders D.R. Horton (NYSE:DHI) and PulteGroup (NYSE:PHM) both edged slightly lower. Home improvement names such as Home Depot (NYSE:HD) and Lowe's (NYSE:LOW) also traded nearly 1 percent lower. Home Depot and Lowe's have been among the best-performing names in the housing industry this year, but D.R. Horton and PulteGroup have underperformed.
Don't Miss: China Is Fed Up With Capitol Hill and the Debt Ceiling Drama.
Follow Eric on Twitter @Mr_Eric_WSCS