Housing Market Keeps Building on This Losing Streak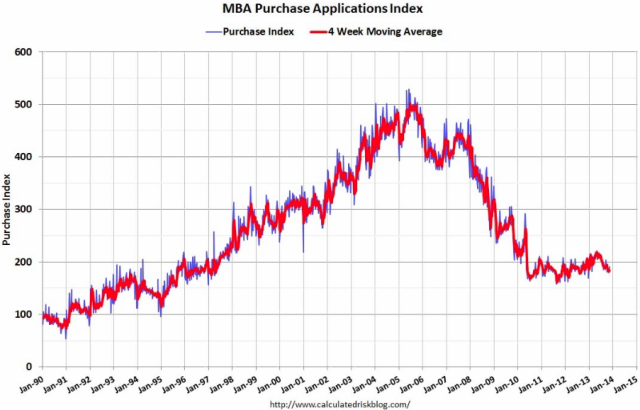 Applications for home loans declined for the third consecutive week as interest rates continue to rise amid housing affordability concerns. According to the Mortgage Bankers Association's latest report, for the week ended November 15, loan applications fell 2.3 percent on a seasonally adjusted basis from one week earlier, the 20th drop in only 28 weeks. That followed a drop of 1.8 percent in the previous week.
The figure includes both refinancing and home purchase demand and covers more than 75 percent of all domestic retail residential mortgage applications. Furthermore, the index plunged 13 percent on an unadjusted basis.
The industry group's refinance index dropped 7 percent from a week earlier. Overall, the refinance share of mortgage activity accounted for 64 percent of total applications, compared to 66 percent from a week earlier and only 7 percentage points above its lowest level since April 2010. On the positive, the seasonally adjusted purchase index gained 6 percent after recently hitting its worst level since December 2012.
The average interest rate for a 30-year fixed-rate mortgage increased from 4.44 percent to 4.46 percent, the highest rate in a month. The most recent average rate for a 15-year fixed-rate mortgage came in at 3.52 percent, unchanged from the week before.
Even though interest rates are low on a historic basis, affordability is near its worst level in about five years due to surging home prices. In September, home prices across the nation increased on a year-over-year basis for the 19th consecutive month. According to CoreLogic, a property information and analytics provider, home prices jumped 12 percent in September from a year earlier. In fact, home prices have posted double-digit gains for eight straight months.
In morning trading, shares of Home Depot (NYSE:HD) edged slightly lower, while Lowe's (NYSE:LOW) dropped nearly 4 percent after reporting quarterly financial results. Home builders Lennar (NYSE:LEN) and Toll Brothers jumped 2.1 percent and 1.3 percent, respectively.
Here's how the major U.S. equity indexes traded on Wednesday:

Don't Miss: Will Americans Feast on Inflation This Thanksgiving?
Follow Eric on Twitter @Mr_Eric_WSCS