Housing Recovery Hits Unexpected Bumps
New home sales for February did not show the same strength that was evident in the existing home sales figures that were released last week.
The Commerce Department reported Tuesday that sales dipped last month.
Newly built homes sold at a seasonally adjusted rate of 411,000 in February. While last month's numbers represented a decrease of 4.6 percent from January, new home sales still improved 12.3 percent from February of 2012. This dip should not be seen as overly concerning as new-home sales numbers can often be volatile from month to month, and in general, the market for new construction has grown this year. However, last month's numbers did fall below analysts' predictions for gains of 425,000…
As recovery in many sectors of the economy has been bumpy, few new homes have been built in recent years, keeping the supply tight. Improvements in the labor market have been uneven. While the general trend has been towards job gains, many lower-income occupations have not seen the same boost and the unemployment rate has stayed stubbornly high. The government's report on new home sales is such a carefully watched economic indicator not only because it gauges demand for housing, but also because it provides an important view on the labor situation. Home buyers must — or, at least, usually — feel confident in their financial position, and therefore their employment situation, before purchasing…
Also, new home sales account for approximately 8 percent of the housing market.
The Commerce Department estimated that there was an approximately 4.5-month supply of new homes on the market. As The Los Angeles Times noted, typically economists see a six-month supply as a balanced and healthy market. While the inventory of new homes rose 1.3 percent to 152,000 units in February, it was not far from record lows. The low month's supply should push up new home prices, which it already has to some degree. The median sales price for a new home stood at $246,800 last month, a three percent increase from a year ago…
As groundbreaking for single-family homes has continued to lag sales, according to recent government data, economists from Moody's have warned that builders could find it difficult to keep up with demand. This imbalance could cause the new home market recovery to be uneven over the next few months, reported Reuters.
The existing home market has also experienced lean inventories in recent months, with the recovery receiving aid from record-low mortgage rates, which have been held down by the Federal Reserve's accommodative monetary policy.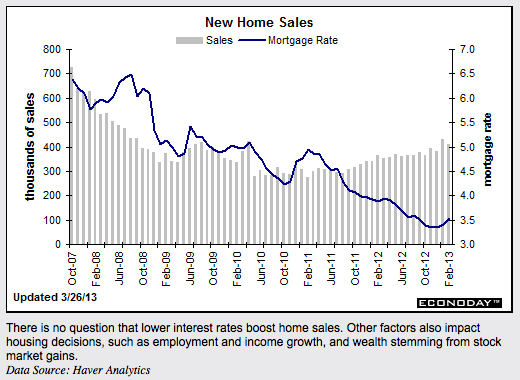 Here's how the market traded Tuesday: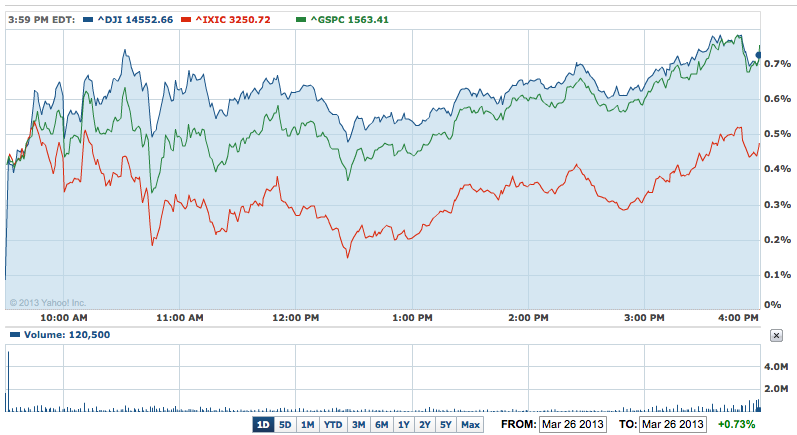 Don't Miss: Rising Home Prices Suggest Broad Housing Market Recovery.