Housing Starts Plunge to Worst Level in 5 Months
Despite monthly housing starts recently recapturing a one million-unit pace, they took a worse-than-expected plunge in April to reach their worst level in five months.
Builders broke ground on houses at a seasonally adjusted annual rate of 853,000 units last month, representing a 16.5 percent drop from the downwardly revised March estimate of 1.02 million units, according to the Commerce Department. It is the weakest reading for housing starts since November. However, the rate was still 13.1 percent higher than the April 2012 pace of 754,000 units.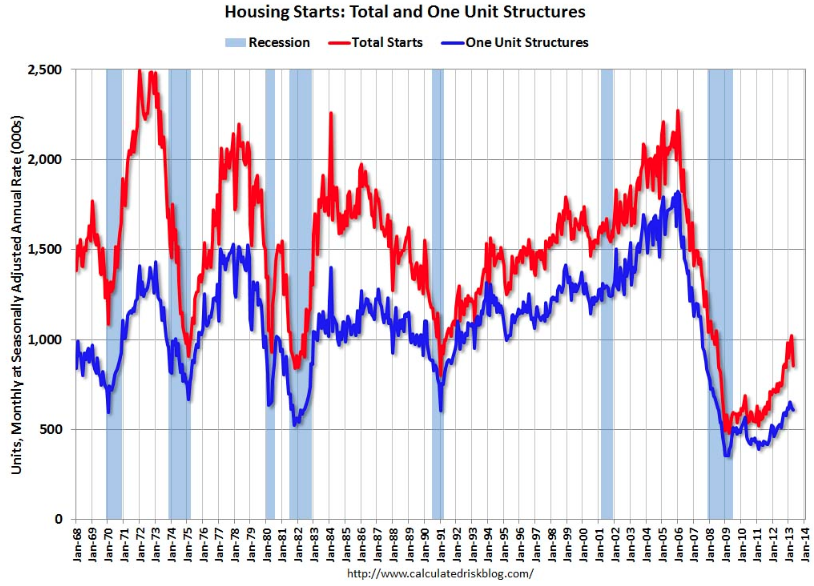 The annual pace of housing starts in April was expected to be 970,000 units, according to economists surveyed by Dow Jones Newswires. The median estimate of 81 economists surveyed by Bloomberg also called for 970,000 units.
Single-family housing starts in April, the largest segment of the market, dropped 2.1 percent to an annualized rate of 610,000 units. It has now declined for two consecutive months. Meanwhile, ground breaking on multi-family homes with at least five units plunged 38 percent to 234,000 units.
New building permits — an indication of future construction — increased 14.3 percent to an annualized rate of 1.02 million units in April, after reaching their highest level since 2008 in February. Economists were expecting the number of new permits to hit a rate of 930,000 units. In comparison, new building permits reached 749,000 units a year earlier.
Overall, construction began on 780,000 units in 2012, a significant increase from 608,800 units in the prior year, but still below the historic average of 1.5 million new homes per year since 1959. Housing starts reached 2.07 million units in 2005.
Home-related stocks such as Home Depot (NYSE:HD) and Lowe's (NYSE:L) both fell about 0.50 percent after the results. Home builders Toll Brothers (NYSE:TOL) and PulteGroup (NYSE:PHM) dropped 1.60 percent and 1.80 percent, respectively. Lennar (NYSE:LEN) declined more than 2 percent.
Don't Miss: What is Warren Buffett Buying and Selling?
You should follow me on Twitter here.