How are Consumers and Investors Dealing with RECORD Poverty Levels?
According to a new report, the number of Americans living in poverty is set to reach its highest level in five decades. The aftermath of the housing and credit bubble has caused a global slowdown that is weighing heavily on the job market and households.
While the official Census figures for 2011 will not be released until this fall, the Associated Press conducted a survey of numerous economists, academics and think tanks. They found that the official poverty rate will likely rise from the 15.1 seen in 2010, with the figure reaching as high as 15.7 percent. Even if the rate increases just 0.1 percent, it would place poverty at the highest level since 1965.
Don't Miss: Are Company Share Buybacks Positive for Investors?
The AP explains, "The analysts' estimates suggest that some 47 million people in the U.S., or 1 in 6, were poor last year. An increase of one-tenth of a percentage point to 15.2 percent would tie the 1983 rate, the highest since 1965. The highest level on record was 22.4 percent in 1959, when the government began calculating poverty figures. Poverty is closely tied to joblessness. While the unemployment rate improved from 9.6 percent in 2010 to 8.9 percent in 2011, the employment-population ratio remained largely unchanged, meaning many discouraged workers simply stopped looking for work. Food stamp rolls, another indicator of poverty, also grew."
Based on a government calculation that includes cash income before tax deductions, the 2010 poverty income level was $22,314 for a family of four, and $11,139 for an individual.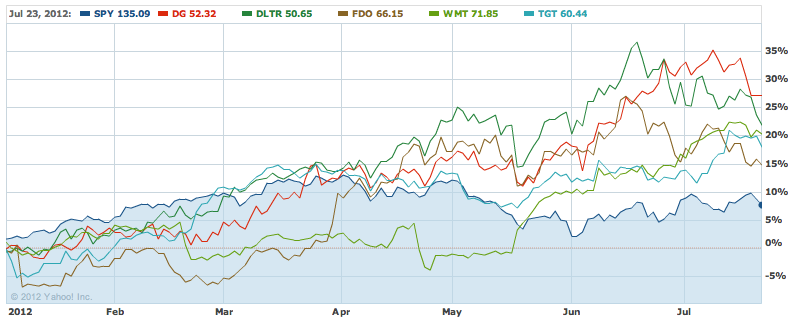 As the chart above shows, consumers and investors have been running towards lower-end retail outlets. Heavy discount store chains have outperformed the broad market. Shares of Dollar General (NYSE:DG) have surged 27 percent year-to-date, while Dollar Tree (NASDAQ:DLTR) and Family Dollar (NYSE:FDO) have increased 21.89 percent and 14.72 percent, respectively. Shares of Wal-Mart (NYSE:WMT), the world's largest retailer, have jumped 20 percent this year. America's second largest retailer, Target (NYSE:TGT), has enjoyed an 18 percent rise in its share price year-to-date.
One of the biggest surprises of the year has been Wal-Mart. Despite trading mostly between $45 and $55 for the past 10 years, shares began to rally in mid-May and hit a new all-time of $73.46 last week. Investors ignored the retailer's Mexican bribery scandal that broke in April and have focused on the global slowdown and the headwinds facing consumers. Furthermore, Wal-Mart receives the added bonus of benefitting from the Supplemental Nutrition Assistance Program, better known as Food Stamps.
In 2011, the United States spent more than $70 billion on food stamps. Although it is unknown exactly how much specific retailers receive from the program, AlterNet reported that in just one year, nine Wal-Mart Supercenters in Massachusetts received a total of $33 million in SNAP dollars. In two years, Wal-Mart reportedly received about half of the $1 billion in SNAP expenditures in Oklahoma.
Even though Wal-Mart shares look poised for a breather, the company is set to weather the slowdown better than most. With an annual dividend payment of $1.59, shares of the retailer are yielding more than 2 percent, higher than the 10-year U.S. Treasury Note.
Investor Insight: Investors Should Read the FINE PRINT on Homebuilders.