How Are These 4 Blue-Chips Performing?
Although Mr. Market appears to be taking a breather from a strong start to the year, all three major U.S. indices are hanging near multi-year highs.
On Friday, the Dow Jones Industrial Average closed at 13,981, slightly lower for the week, but still within earshot of its all-time nominal high. The Nasdaq also edged lower for the week, but remains at its best level in more than a decade. Meanwhile, the S&P 500 finished at 1,520. The S&P 500 gained 0.10 percent for the week and has now closed higher for seven-consecutive weeks, the longest streak in over two years and the best opening streak to a year since 1967.
However, investors are taking a moment to digest the strong performance. Over the past two weeks, the difference between the Dow's intraday high and low have been about 1.4 percent, the lowest spread since late 1986, according to Bespoke Investment Group. Furthermore, the readings on bullish sentiment from The American Association of Individual Investors have declined for three-straight weeks.
Here's a look at some of the biggest blue-chips making moves…
General Electric (NYSE:GE):
Shares of the conglomerate reached their highest level since 2008 after announcing a deal to sell NBC Universal to Comcast (NASDAQ:CMCSA).

In 2011, Comcast made its move to buy most of NBC Universal, but GE still maintained a 49 percent minority stake in the broadcast company. Fortunately for Comcast, GE had been planning to eventually pull out of the entertainment business, and this exchange of power completed both companies' plans.
Comcast paid $16.7 billion to GE — $11.4 billion with on-hand cash, $4 billion with unsecured notes, $725 million with subsidiary preferred stock, and $2 billion with credit facility borrowings. Interestingly, shares of GE and Comcast climbed higher on the news, signaling investors on both sides of the negotiation table were happy with the outcome.
Cisco Systems (NASDAQ:CSCO):
Shares of the worldwide leader in networking declined last week as it reported quarterly financial results.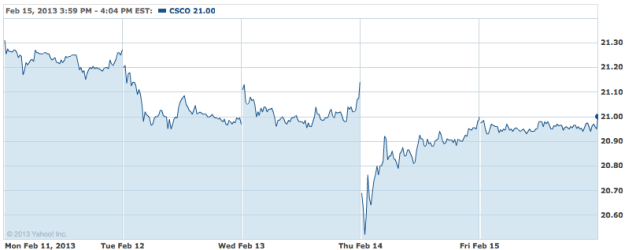 Cisco earned $3.1 billion (59 cents per share) in its fiscal second quarter, compared to $2.2 billion (40 cents per share) a year earlier. Net sales increased a modest 5 percent to $12.1 billion, compared to $11.5 billion in the same period last year. Excluding one-time charges, Cisco reported earnings of 51 cents per share, up from 47 cents per share a year earlier and 3 cents above analysts' average estimate of 48 cents per share on revenue of $12.06 billion.
However, the company's bottom line was aided by $926 million (17 cents per share) from tax benefits. Meanwhile, the biggest revenue categories provided a mixed picture. The company's revenue from switches increased 3 percent to $3.7 billion, but router sales dropped 6 percent year-over-year to $1.9 billion. The two categories account for nearly half of Cisco's total revenue.
Shares of Cisco have been in rally mode since last November, but multi-year resistance remains at $22-$24.
Bank of America (NYSE:BAC):
The bailed-out bank was the worst performer in the Dow in 2011, but became the best performer in the index last year. Shares are up nearly 4 percent in 2013. Most recently, it was disclosed that Lansdowne, the largest European hedge fund that invests in equities, purchased more than $300 million of Bank of America shares in the fourth quarter.

Earlier this month, analyst Meredith Whitney proclaimed, "Bank of America is the stock to own this year."
Alcoa (NYSE:AA):
Shares of the New York-based company logged an impressive week, climbing more than 4 percent. The aluminum giant looks set to hold $8 as strong support, after plunging from $40 in 2008.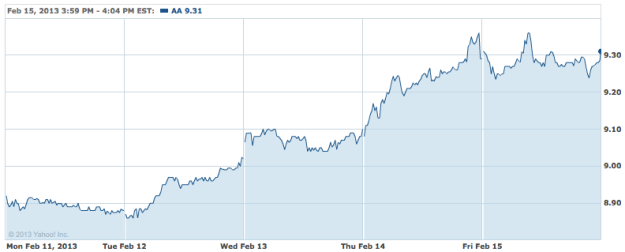 Even though the Dow has been trading flat, Alcoa received a boost as China's government invested in an Australian company called Alumina, which is a partner with Alcoa. With an investment of nearly $800 million since 1993, Alcoa is the largest multinational investor in China's aluminum industry.
Don't Miss: How Big is E-Commerce?