How Bad Is America's Income Gap?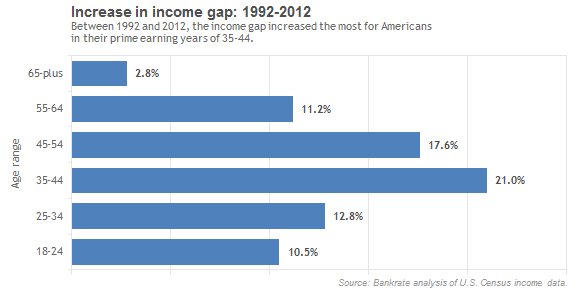 Americans continue to regain their footing from the worst financial downturn since the Great Depression, but the disparity between the rich and poor is still growing with no signs of slowing down.
While the income gap is widening across all age groups in the United States, workers in their prime earning years are experiencing a rapid shortfall. According to a new analysis from Bankrate.com, the income gap among 35 to 44 year-olds is seeing the fastest growth at 21 percent, between 1992 to 2012. That is more than double the average increase of 10 percent seen for all age groups over the same period. The income gap among 45 to 54 year-olds is also very high at 17.6 percent.
"These are key transition years," according to Chris Kahn, research and statistics analyst for Bankrate.com. "Some of the reasons why the income gap is growing so rapidly within this age group are persistently high unemployment, as well as stagnant wages. This stagnation in income, combined with rising prices, is making it more challenging for people to stay in the middle class or move up."
Most people reach their prime earning years in their 30s and 40s. This period is crucial when building wealth for the longer-term. "This age group is in a kind of transition period, going from establishing themselves in their careers to that next level," says Jason Flurry, president of Legacy Partners Financial Group. "It's a critical financial point. If you handle that period well, it sets the course for the next decade; if you don't, in many cases you can't recover."
Many people also reach well-paying management positions in their 30s and 40s, but the recovery in the labor market is still too slow for comfort. The headline unemployment rate is at 7 percent, while the U6 unemployment rate, which includes everyone in the headline rate — plus people who are employed part-time but prefer a full-time position, or want work but have stopped looking — remains stubbornly higher at 13.2 percent.
Don't Miss: Will These 4 Predictions for the Housing Market Come True?
Follow Eric on Twitter @Mr_Eric_WSCS