How Bad is the Student Debt Bubble?
Earlier this year, it was reported that the total amount of student debt outstanding surpassed $1 trillion towards the end of 2011. According to new research, the massive student debt bubble is not going away anytime soon.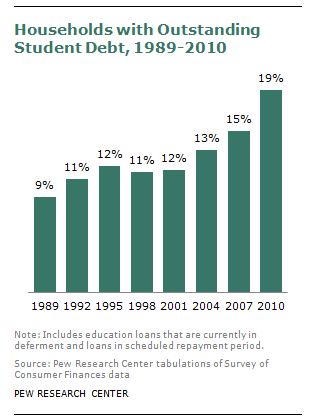 Over the past two decades, the percentage of American households with outstanding student debt has more than doubled from 9 percent in 1989 to 19 percent in 2010, according to a Pew Research Center analysis. The debt burden is even heavier on younger led households, as college tuition prices continue to sky-rocket at a far quicker pace than inflation or wage increases. The report finds that a record breaking 40 percent of all households headed by someone younger than the age of 35 are saddled with student debt, representing the most indebted age group.
The share of households owing higher amounts of debt also climbed higher. Richard Fry, a senior economist at Pew who authored the report, explains, "Among households owing student debt, the average outstanding student loan balance increased from $23,349 in 2007 to $26,682 in 2010. Most debtor households had less than $50,000 in outstanding student debt in 2010, but the share of households owing elevated amounts has increased. In 2007, 10 percent of student debtors owed more than $54,238. By 2010, 10 percent of student debtor households owed more than $61,894."
Catalysts are critical to discovering winning stocks. Check out our newest CHEAT SHEET stock picks now.
As the chart below shows, education-related stocks have been punished this year by making moves that are reminiscent of the housing bust. DeVry (NYSE:DV), Apollo Group (NASDAQ:APOL) and ITT Educational Services (NYSE:ESI) have all declined more than 40 percent year-to-date. Meanwhile, Career Education (NASDAQ:CECO) and Education Management (NASDAQ:EDMC) have plummeted 51 percent and 88 percent, respectively.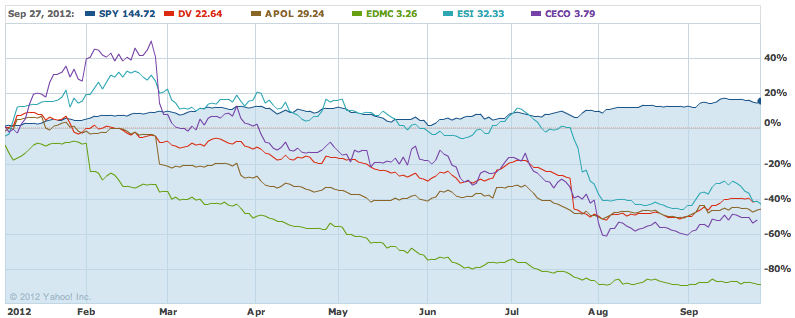 While the student debt bubble has yet to pop like housing, cracks are appearing. The sluggish economy and dismal employment market is making it harder than ever for borrowers to service student loans. A study conducted by the Institute for Higher Education Policy last year found that for every one borrower who defaulted, at least two more were behind in payments. It appears that it is only a matter of time before the book closes on the debt bubble.
Investor Insight: What Do Top Executives Think About the U.S. Economy?