How Badly Is the Middle Class Getting Squeezed in Real Estate?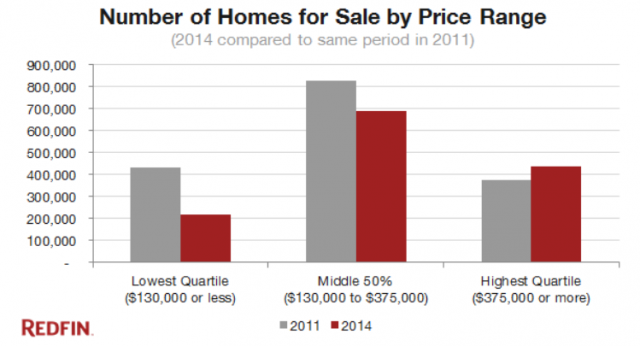 Finding a home for sale with a middle class price tag is becoming more difficult in today's real estate market. In addition to a struggling labor market, several factors are causing frustration among homebuyers with modest bank accounts.
Inventory levels are rising, as long as you have enough money. Homes for sale in the $130,000 to $375,000 price range totaled 688,000 units in July 2014, down 17 percent from 829,000 units three years ago, according to a new report from Redfin, a real estate brokerage and research firm. Even worse, available homes priced at $130,000 or less plunged by 50 percent during the same period. In fact, the most expensive segment of the market was the only area to show growth. Available homes priced at $375,000 or more jumped 16.4 percent over the past three years.
While real estate agents tend to always say that now is a good time to buy, Americans are hesitant about the current market, which is only a few years removed from the housing bubble collapse. "The issue seems to be that a lot of what's on the market is overpriced, and buyers are feeling uncertain about whether it's a good time to buy," said Marcus Fleming, a Redfin agent in Phoenix. "Some of my clients are getting homes under contract but continuing to tour more properties to be absolutely certain they've found the best deal."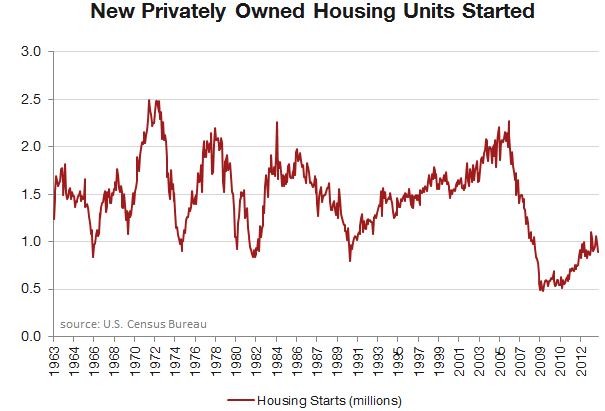 The report notes that the middle range for homes has increased from just a few years ago. Today, the middle price range for the national housing market is between $155,000 and $429,000, up 36.6 percent from the 2011 range of $130,000 to $375,000. The most dramatic moves have taken place in Phoenix, Arizona; Sacramento, California; and Las Vegas, Nevada.
Why is the middle getting squeezed? Aside from stagnant wages and surging home prices, homebuilders are still not providing much supply relief as newly constructed houses remain near record lows. As the chart above shows, new construction is near the troughs seen in previous downturns, dating back to the 1960s. Furthermore, as many as 35 percent of current homeowners are unlikely to list their homes for sale due to having low equity or having purchased or refinanced at historically low interest rates.
Follow Eric on Twitter @Mr_Eric_WSCS
More From Personal Finance Cheat Sheet:
Want more great content like this? Sign up here to receive the best of Cheat Sheet delivered daily. No spam; just tailored content straight to your inbox.