How Close Is Janet Yellen to the Federal Reserve?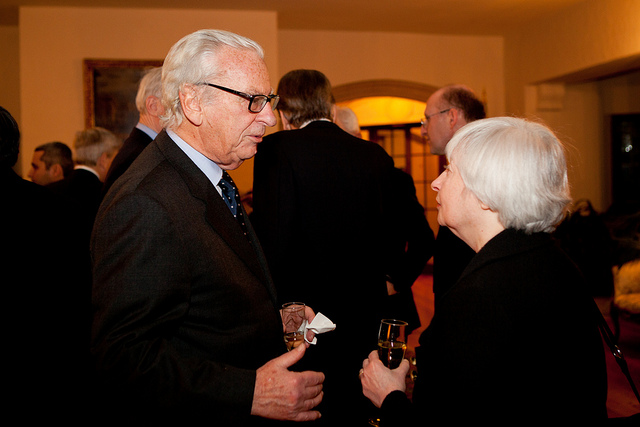 Economists are taking bets on whether or not Janet Yellen will be elevated to the number one spot in the Fed after current chairman Ben Bernanke calls it a day in January 2014.
While economists may not actually be taking wagers on Yellen, they are making it known in polling that she is the clear favorite for the position, with 65 percent odds, currently.
The role of central banker-in-chief isn't exactly a job for the weak hearted, or those looking to make friends. Bernanke's announcement about the potential end of quantitative easing prompted several prominent Fed members to air their opinions in public, and European central banker Mario Draghi seems to be at his wits end in getting the euro economy under control.
Yellen would step into a situation where markets are overwhelmingly making it known they want continued liquidity through the easing program, behaving like 'feral hogs'. Yet the need to make markets aware that QE is not indefinite is also profoundly needed, before they are ever able to wean themselves of the central life support. It's not just U.S. markets either, much of the money made through QE ends up in Europe and in emerging markets, and while places like Greece and Spain are in dire need of investment, the beginning of 'tapering' will also be a harsh reality for those countries.
Still, some say there are none with more experience than Yellen.
J. Alfred Broaddus Jr., former Richmond Fed president, says, "Among people who have been vice chairman, I can't think of any who have been more qualified than Janet. She's got more experience in the Fed than maybe anybody else you could think of."
However, certain historical odds are stacked against Yellen, should she want the position. No woman has ever headed the Federal Reserve, and more relevant than that, no vice chairman has ever assumed the helm after his boss retired. In fact, it turns out that it's more a game of politics and preference rather than that kind of experience.
According to Allan Meltzer, a professor of political economy at Carnegie Mellon's Tepper School of Business in Pittsburgh, it's really just what the president finds most convenient. "It's often been the case that the members, including the vice chairman, are much less prominent than the Fed chairman. Presidents look for people who will be congenial to them, and the vice chairman might be somebody appointed by a previous administration," Meltzer said.
For Yellen, then, that is one thing she has going for her: she was an Obama appointee. The President nominated her for the position in 2010.
At least one observer though, wonders how strongly their relationship weighs into her chances. Adam Posen, a former member of the Bank of England's rate-setting Monetary Policy Committee, claims that relationship is dubious under these circumstances.
Speaking on a panel at a Bloomberg Washington Economic Summit in April, he said that,  "It's not a question of qualifications. I'm sure President Obama has high regard for Vice Chair Yellen, but I don't get the sense that they're particularly close."
Assuming Yellen does get the job then, what can the markets expect of her? For one, she has never dissented against a FOMC action under Bernanke, leading one to speculate a continuity of policy is likely. Perhaps then the only question, is whether or not she we read the economic indicators the same way Bernanke has when deciding to end QE, it is possible Yellen would maintain the program for longer, or end it sooner, depending on her perspective.
Her political convenince makes her a nice choice according to Dartmouth professor Danny Blanchflower. "I think she's highly capable and presumably would sail through confirmation," he said. It's possible Yellen will get her chance to step into the fray of leading a central bank after all.
Don't Miss: Are Western Banks Increasing Their Presence in China?