Will Facebook Measure Up to Titan Internet IPOs?
Facebook (NASDAQ:FB) hype has reached a new status. Today, the world's largest social networking company increased its initial public offering price range to $38, compared to $28-$35 set at the beginning of the month. Shortly following the IPO price hike, Facebook also decided to sell an additional 84 million shares, raising the total to more than 421 million shares. With the IPO finally pricing Thursday evening, how does Facebook stack up against other popular internet names?
The entire offering of Facebook's IPO could raise over $16 billion with shares price at $38 each. At that amount, it would become the third-largest IPO ever on an U.S. exchange, only following Visa Inc. (NYSE:V) at $19.65 billion and General Motors (NYSE:GM) at $18.15 billion. Facebook would also become the largest technology IPO in history. "This is much more a spectacle, a media event and a cultural moment than it is an IPO," said Max Wolff, an analyst at GreenCrest Capital, according to Reuters. "This is not a game of models and fundamentals at this point."
Don't Miss: Is Facebook the New Apple?
Nearly eight years ago, Google Inc. (NASDAQ:GOOG) raised $1.67 billion in its IPO, far below Facebook's expected haul. The king of search engines priced its IPO at $85 per share. On the first day of trading, shares closed at $100. Since then, shares have experienced their fair share of ups and downs, but are currently above $600. While Google shares remain above their IPO price, not all recent internet companies have been able to do so.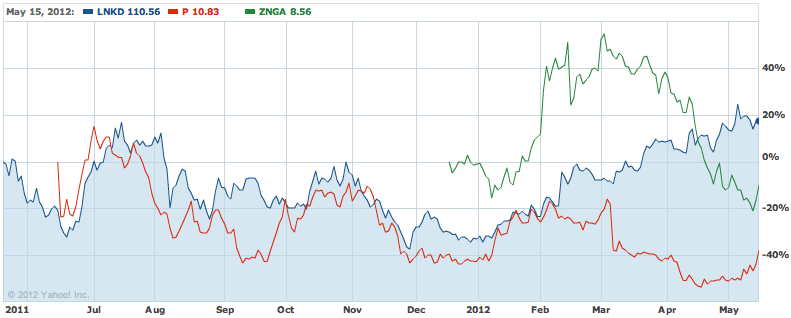 As the chart above shows, Pandora Media Inc. (NYSE:P) and Zynga Inc. (NASDAQ:ZNGA) shares have both fallen below their IPO price of $16 and $10, respectively. Pandora has dropped almost 30 percent from its IPO in June 2011, while Zynga is down 18 percent from last December. One of the surprising internet companies to trade higher than its IPO price is LinkedIn Corp. (NYSE:LNKD). The professional networking company received an IPO price of $45 in May 2011 and currently trades above $110.
Facebook is on pace for a valuation near $104 billion when it starts trading. In comparison, Google's valuation was only $23 billion when it went public in 2004. Although Facebook is often compared to Google, the two companies could not be more different. Google has a tried and proven advertising system, while Facebook has yet to fully cash-in on its advertising model. Investors buying Facebook shares this week are betting that the company will find a way to monetize its 900-million users more effectively. At a $100 billion valuation, Facebook would trade at almost 27 times 2011 sales, while Google trades at only 5 times. "That hope and potential is exactly why it's potentially a $100 billion deal," said Tim Cunningham at Thornburg Investment Management Inc., according to Bloomberg.
On Tuesday, General Motors added to the Facebook advertising debate by announcing plans to stop advertising on Facebook. America's largest auto maker met with Facebook managers to discuss concerns, but GM was not convinced that paid advertising on the social-media giant's website was beneficial. The move is unlikely to temper demand for Facebook shares though, as Ford (NYSE:F) said it is doing more advertising on Facebook and is using the site as a critical part of the company's media mix.
Analyzing businesses as investments requires a proven framework for picking winning stocks. Don't waste another minute — click here and get our CHEAT SHEET stock picks now.