How Does Federal Reserve "Chairwoman" Sound?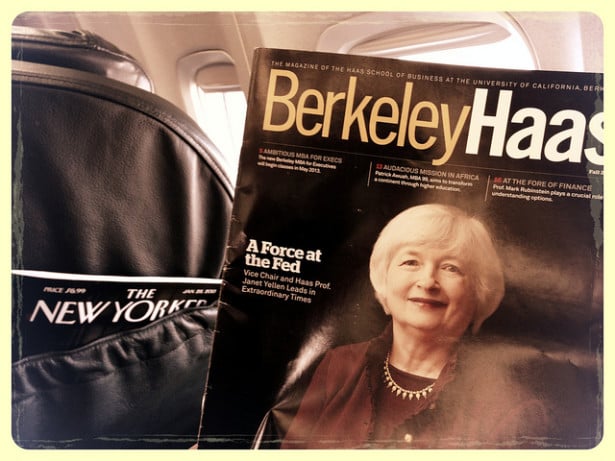 The "Next Fed Chair" nominating process has been a remarkably drawn-out affair. All summer long, hypothetical candidates were presented, after which theorists recommended or denounced them. The White House has mostly kept quiet, though the administration was quick to denounce Friday rumors — again — that Larry Summers was topping the list of next in line. Surveying the situation in Washington, it's likely Janet Yellen will be the next head of the Federal Reserve.
The Washington Post's WonkBlog detailed the frenzy of the race to replace Ben Bernanke with a fascinating tale of the tape. When the runup to replacing Alan Greenspan occurred in 2005, a mere 27 articles on the topic appeared from June through August. This year's nominating season yielded 143 articles on who would be chairing the Fed through the same period, and this eventful September hadn't even begun.
What's happened at the White House in September has affected the question of Ben Bernanke's succession as much as it has the situation in the Middle East. As Jim McTague pointed out in a bluster-filled Barron's blog, President Obama has little political capital in reserve following how the Syria conflict unfolded. For that reason, few observers believe Obama will take on the fight needed to push through a Larry Summers nomination. Enter Janet Yellen, again.
As Fed Vice Chairman (her actual title), Yellen has been vocal in her support for increased banking regulations and has been noted for her take on the unemployment rate (she thinks it's higher). Above all, Yellen has won the support of many ranking Democrats while landing an unprecedented endorsement in the New York Time editorial pages in July, after Senators sent Pres. Obama a letter recommending her.
That base of support would ensure her nominating process would be low-key, provoking little resistance from a Republican Party already pigeonholed as less than a force for progress in women's rights. Mostly, Yellen's record suggests she would bring an evenness in her rationale and steadiness in her directing hand.
The New York Times especially likes Yellen's outsider status in the Wall Street community. Americans have been calling for more transparency and oversight in the regulation of the banking industry. Obama would likely get these things with Yellen, and the fight he wouldn't get in Congress may push her over the top. Everything is in place. They just need to change the gender in the title.
Don't Miss: Brazil's Volatile Real: Why Currency Fluctuations Are Painful.