How Healthy Is The U.S. Labor Market?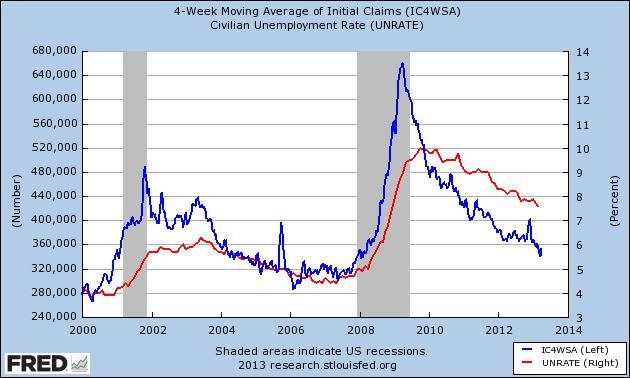 Although the economy remains weak and supported by historic central bank intervention, initial claims for unemployment insurance fell 10 percent in the week ended April 6 to a seasonally-adjusted 346,000. This compares against expectations for a 6 percent decline to 365,000 claims, and punctuates a March littered with negative labor market news.
Weekly claims data has been particularly volatile recently, soaring to an upwardly-revised 388,000 in the previous period. The four-week moving average, a more reliable indicator of emerging trends, increased less than 1 percent to 358,000. This suggests that the data for the first week of April, though positive, is not necessarily indicative of improving labor market conditions.
Labor market volatility has been front and center in America's national debate ever since the financial crises tore through town and pushed the U-3 headline unemployment rate as high as 10 percent in October of 2009. The rate fell to 7.6 percent in March, just 1.1 percentage points shy of the Federal Reserve's 6.5 percent target rate. This is ostensibly a clear trend of improving conditions, but sentiment over the reality of the health of the labor market is split.
Importantly, there seems to be disagreement among members of the nation's various Federal Reserve banks about just how well America's labor market recovery is going…
March's employment situation report showed that just 95,000 private payrolls were added, a far cry from a consensus estimate calling for 200,000 additions. What's more, the report showed that the labor force participation rate decreased by 0.2 percentage points to 63.3 percent. The employment-to-population ratio remained little changed at 58.5 percent, but is still painfully low.
Speaking at the Economic Club of New York on March 25, William Dudley, president and CEO of the New York Federal Reserve, provided a blunt — and seemingly prescient — assessment of labor market conditions. To make a long story short, Dudley suggested that "the labor market is far from healthy." He highlighted the weak employment-to-population ratio and the low aggregate job finding rate.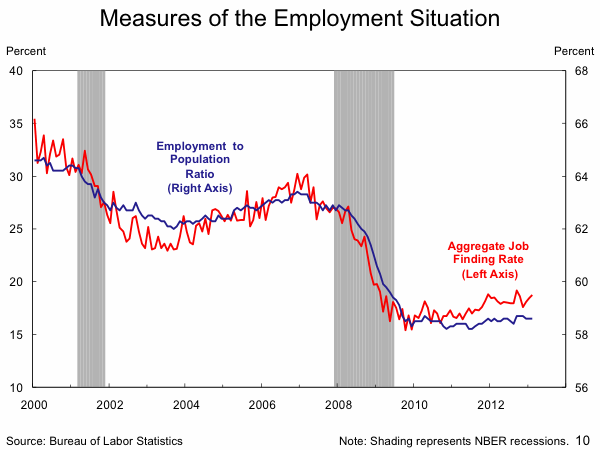 In a speech on April 5, just ahead of the most recent labor market report, Eric Rosengren, president and CEO of the Boston Federal Reserve bank, said that "continued accommodative policy, such as continuing our asset purchase program through this year, is an appropriate response to labor market scarring."
Rosengren and Dudley are both currently FOMC voting members who have encouraged the Fed to keep the easy-money policy in place at least through the end of the year.
On the other hand, Charles Plosser, president and CEO of the Federal Reserve Bank of Philadelphia (currently not a voting member on the FOMC), believes that labor market conditions are improving at an acceptable rate.
"In my view," he said in a speech he delivered in Hong Kong on Thursday, "a case can be made that we have seen sufficient improvement to begin tapering our asset purchase program with the objective of bringing it to an end before year-end."
"My forecast of 3 percent [GDP] growth should allow for continued improvements in labor market conditions, including a gradual decline in the unemployment rate, similar to the trend we have seen over the past two years, which was a 0.7- to 0.8-percentage point decline per year. Continuing at such a pace would lead to an unemployment rate close to 7 percent at the end of 2013 and a rate below 6.5 percent by the end of 2014," he said.
Plosser's comments are in line with some of the thinking revealed in the minutes from the most-recent Federal Open Market Committee meeting. According to the minutes, "a few members felt that the risks and costs of purchases, along with the improved outlook since last fall, would likely make a reduction in the pace of purchases appropriate around midyear, with purchases ending later this year."
Don't Miss: Did the Markets Touch Records With a Little Help From China?