How High Will Bank of America's Stock Climb?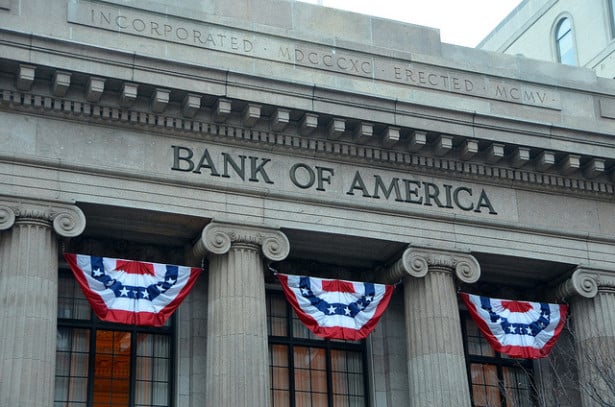 The stock market has been watching Bank of America (NYSE:BAC) climb and climb, with stock recently reaching and surpassing the $15 mark. Many investors have been buying upside calls with hopes that Bank of America's stock will keep rising past $16 — according to Barrons. Back in January the $16 call trade had investors going crazy over the bank's stock, and it has been popular in the market since it began recovering from the financial crisis.
Bloomberg suggests that the bank's recovery and success may be attributable to its chief executive officer, Brian T. Moynihan, who came into the position just under four years ago. Since he began as CEO in January of 2010 Moynihan has sold over $60 billion assets, increased capital, and managed to settle on $50 billion worth of legal issues with mortgage claims.
"He's getting back to the starting line. He's done a good job on the legal side getting us more comfortable with what's left. Now the more challenging part is where you have to grow core earnings, not just shrink and eliminate risk," said David Konrad, head of U.S. bank research at Macquarie Group Lt. His main goals have recently centered on upping the bank's revenue and reducing costs.
"It's a bit of a milestone, they're getting past some of their legacy issues and are able to focus on growing the company. We certainly oped it would've happened faster," said Jonathan Finger — member of the Finger Interest Ltd. which owns 1.1 million shares of Bank of America.
Bank of America, alongside JPMorgan (NYSE:JPM) has cleaned up a fair amount of dirty laundry. JPMorgan finalized a record $13 billion settlement with the Department of Justice this month, closing up issues over a civil suit regarding JPMorgan's sales of bad mortgage bonds without proper warning. Bank of America also came to an agreement on terms of settlement with the U.S. DoJ and state attorney general as well, and had announced in a press release that consumer relief would be compete by March 31, 2013.
Don't Miss: If Oswald Didn't Kill JFK, Then Who Did? 5 Conspiracies Examined.