How Is GM Being Affected by the Egypt Turmoil?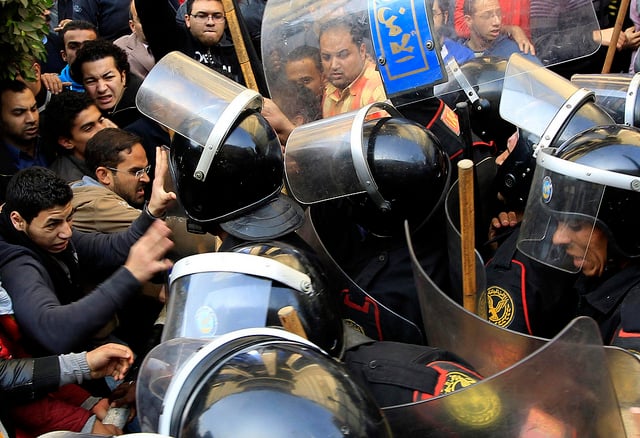 General Motors (NYSE:GM) is risking the political tumult in Egypt, reopening some operations after halting them as violence and civil unrest roils a country undergoing a profound restructuring.
GM stopped operations Thursday, along with several other firms attempting to take security precautions for their employees, though the automaker reopened its production plant near Cairo while maintaining that it was monitoring the situation closely, Reuters reports.
The violence has not slowed in Egypt, where 25 people were killed in an ambush Monday. Former Egyptian leader Hosni Mubarak was acquitted Monday on corruption charges, an action that is likely to stir up further unrest in a country adamantly divided over the fate of its rulers.
CNN reports that 900 people have been killed in the last week.
Thus, GM and other companies are trying to find the sensitive divide between protecting their employees and running their businesses efficiently.
Sweedish company Electrolux, which makes appliances, halted operations Wednesday as violence escalated, though it has partly resumed production near Cairo. The company owns 10 facilities, all on the outskirts of Egypt's capital.
The Egyptian army facilitated the ousting of former President Mohammed Morsi, and as supporters of the fallen politician have become increasingly vocal about their displeasure, tensions with the military have risen, resulting in a political situation fraught with bloodshed and widely covered by international media. Many of the deaths occurred as Egyptian protestors staged sit-ins in Cairo last week.
The United States has also increasingly found itself in a precarious situation, as Congress is questioning the value of aid flowing to a country enmeshed in violence and political disarray. Republican Sen. John McCain appeared on CNN recently to voice his opinion that aid should be shut off in order to leverage America's influence.
"We have no credibility," McCain said in an interview with the news outlet. "We do have influence, but when you don't use that influence, then you do not have that influence."
All of this combined makes for a rough situation for GM and other international firms trying to make a profit in conditions that are anything from amicable.
According GM's Egypt operations website: "Today, GM Egypt and Al-Mansour's networks include 61 showrooms and 40 service centers covering various governorates all over Egypt to support the booming growth in the country and to increase customer satisfaction." GM's operations in Cairo also represent one of the lowest manufacturing cost sites for complete knockdown units, which can later be assembled into a complete car at another location.