How Long Until 6.5% Unemployment?
The advance figure for seasonally-adjusted initial unemployment claims for the week ended January 12 fell 9.9 percent to 335,000, according to the U.S. Department of Labor. The four-week moving average, a more reliable indicator of employment trends, also fell, decreasing 1.8 percent to 359,250.
The markets are watching employment data to get not just an idea of overall economic health, but to stay ahead of the Federal Reserve, which last month announced that it will link its monetary policy to employment. The Fed said it would continue buying assets such as Treasury and mortgage-backed bonds until U-3 unemployment, currently at 7.8 percent, hits 6.5 percent.
Start 2013 better than ever by saving time and making money with your Limited Time Offer for our highly-acclaimed Stock Picker Newsletter. Click here for our fresh Feature Stock Pick now!
At the December meeting, some Fed board members expressed their interest in ending the asset-purchasing program before the end of 2013, but at the current rate of job creation the unemployment rate is unlikely to drop below 7 percent before then…
The economy has averaged about 150,000 new jobs a month for the last two years. At this rate, economists are expecting the official unemployment rate to hit the 6.5 percent target in 2014.
This slow growth is concerning not just to a beleaguered workforce, but to many members of the Fed itself, who are increasingly dissatisfied with the asset-purchasing program. Recently, Dallas Fed president Richard Fischer told reporters that he believes the ongoing program "is increasingly having a lesser impact as we go through time." And, of course, the larger the Fed's balance sheet grows, the riskier unwinding its position becomes.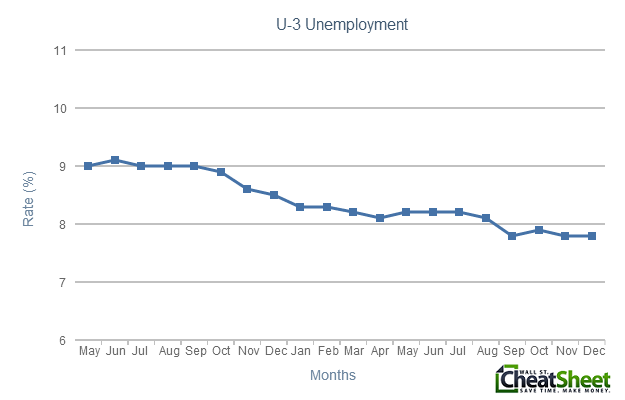 Investing Insights: Bank of America Earnings: Moving in the Right Direction?