How Low Will Toyota Go to Save Camry's Crown?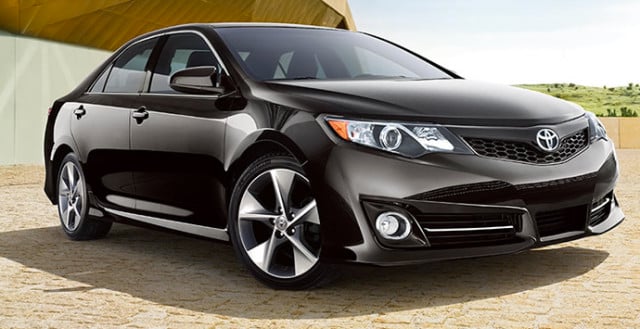 Toyota Motor Corp. (NYSE:TM) knows how important it is to maintain the Camry's status as America's best-selling car, and the automaker is doing just about everything to ensure it stays atop the competition.
For 11 years, the Toyota Camry has been advertised as the nation's best-selling car, but times change and so, too, does the competition. Now that other vehicles are breathing down the Camry's neck, Toyota is presented with a tough situation. Should it increase incentives or risk the possibility of a dethroning?
The automaker has vehemently refused the latter, and has instead piled on the incentives to prove it. As a method to combat competition in the stiff family sedan market, Toyota has bumped up the vehicle's incentives each month, from $2,300 in January to $2,750 in May. The last figure represents a 38 percent increase from the same period in 2012.
In comparison, the segment's other best sellers have actually decreased spending, evidenced by Nissan Motor Co.'s $2,400 it put into the Altima, the $2,300 that went into Ford Motor Co.'s (NYSE:F) Fusion, and Honda Motor Co.'s (NYSE:HMC) $1,400 for the Accord.

The Camry is the sole top-selling mid-size sedan to receive increased incentive spending this year, and it is also the subject of alluring fleet deals. Camry consumers might be celebrating their luck for now, but Toyota insiders are more worried than congratulatory. While the Camry has always had an impressive resale value, that number could plummet if incentives continue to increase.
Automotive News explains that insiders "say sales meetings often revolve around the potential trade-offs of the Camry ceding its lead in order to preserve its residual values. If incentives and fleet sales are already this high, some insiders ask, what will happen in two years, when the Camry is closer to the end of its life cycle?"
The 2013 Camry currently has a 36-month residual value at 54.5 percent, a figure much more optimistic than the segment's average 50.9 percent, but that number might not be here to stay. As Toyota works to keep the Camry's best-selling car crown, it could end up hurting more than helping.
Don't Miss: Case Closed: Ford Is Writing to Taurus and Mercury Sable Owners.