How Many Americans are Still Underwater or Anchored to Their Homes?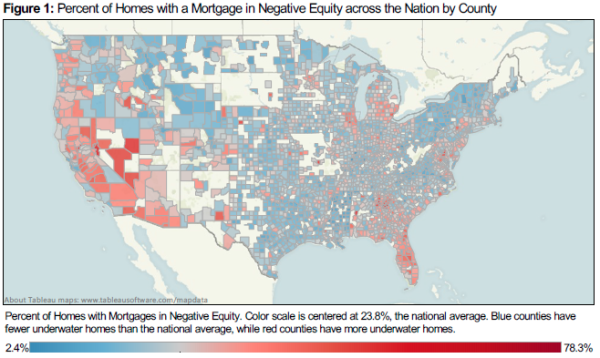 The unprecedented amount of monetary easing from the Federal Reserve has acted like a life preserver to the real estate market, but many Americans still find themselves underwater or anchored to their current homes.
In the second quarter of 2013, the national negative equity rate declined to 23.8 percent of all homeowners with a mortgage, according to Zillow's Negative Equity Report. In comparison, 25.4 percent of homeowners with a mortgage were underwater in the previous quarter. Almost 31 percent were underwater a year earlier.
The national negative equity rate has now declined for five consecutive quarters, and is below 25 percent for the first time since Zillow began using its current methodology in early 2011. In fact, more than 805,000 American homeowners were freed from negative equity during the second quarter. While this is a significant improvement, many people are still trapped in their homes.
Across the nation, there are approximately 12.2 million homeowners who still owe more than their homes are currently worth. Zillow also finds that the effective negative equity rate — homeowners with less than 20 percent home equity — is at 41.9 percent. Meanwhile, roughly one in seven homeowners owe more than double what their home is worth.
A homeowner technically reaches positive equity when the market value of the house exceeds the outstanding loan balance by any amount, but the associated costs of listing a house and moving prevents many Americans from selling.
"Widespread rising home values during the past year have helped chip away at negative equity nationwide, helping many homeowners who were only modestly underwater to come up for air. For those homeowners who are deeply underwater, though, there is still a long row to hoe," said Zillow Chief Economist Dr. Stan Humphries. "The frustratingly slow pace of negative equity declines in the face of such robust home value appreciation is a direct result of the fact that many people in the hardest-hit markets are underwater by an enormous amount."
With the help of centrally-planned interest rates and low inventory levels, home prices have been on the rise. The latest reading from the Standard & Poor's/Case-Shiller index showed a 12.1-percent jump in June from a year earlier. All 20 cities in the index posted gains on a monthly and annual basis.
Home prices are 23 percent below their bubble peak but have bounced back nearly 50 percent since the March 2009 low. The slow housing recovery in some parts of the nation is one of the reasons why Dr. Humphries believes negative equity will be an issue for years to come.
Looking ahead, Zillow predicts the negative equity rate among all homeowners with a mortgage will decline to at least 20.9 percent by the second quarter of 2014, saving more than 1.9 million additional homeowners from being underwater.
Don't Miss: Consumers Find It Hard to Keep Smiling
Follow Eric on Twitter @Mr_Eric_WSCS