How Many People Use Facebook and Other Social Media?
Facebook is the biggest social media platform in the world. But just how many people are logging in every day to see updates on their Aunt Kathy's vacation or share silly memes?
The answer: A lot. Despite recent some troubles, including the Cambridge Analytica scandal, Facebook still has 2.2 billion monthly users, CEO Mark Zuckerberg said in the company's Q2 2018 earnings call. Every day, 1.5 billion people are active on the platform. At least once per month, 2.5 billion people use one of the company's apps, which include WhatsApp, Instagram, and Messenger, in addition to Facebook.
How does that compare to Snapchat or Twitter?
With more than 2 billion users, Facebook is clearly the top dog in the social media world. Here's how some other platforms compare. (User numbers as of July 2018).
YouTube: 1.8 billion
WhatsApp: 1.5 billion
Facebook Messenger: 1.3 billion
Instagram: 1 billion
LinkedIn: 562 million
Tumblr: 550 million
Twitter: 336 million
Pinterest: 200 million
Snapchat: 191 million
There are also some other popular social media platforms that Americans might be less familiar with. WeChat, a Chinese social media app, has more than 1 billion monthly users. Sina Weibo, a Chinese micro-blogging service that's similar to Twitter, has 376 million users. 
What about social media platforms that have faded in popularity? Back in 2006, Myspace was the most popular website in the U.S. While it lost that title long ago, it still attracts some users. In 2018, about 9 million people were still finding their way to Myspace every month, though whether they were actually logging into their old accounts wasn't clear.
How do Americans use social media?
At this point, social media use is part of most people's daily online activity. The majority of Americans use social media, according to a 2018 Pew Research Center survey. Here's the percent of U.S. adults who say they use popular social apps or sites.
YouTube: 73%
Facebook: 68%
Instagram: 35%
Pinterest: 29%
Snapchat: 27%
LinkedIn: 25%
Twitter: 24%
WhatsApp: 22%
The most popular social media platforms vary quite a bit with age and other demographic factors. People in their late teens and early 20s are avid users of Snapchat, for example – 78% of 18-to-24-year-olds are active on it. But only 54% of people between 25 and 29 say they use the platform.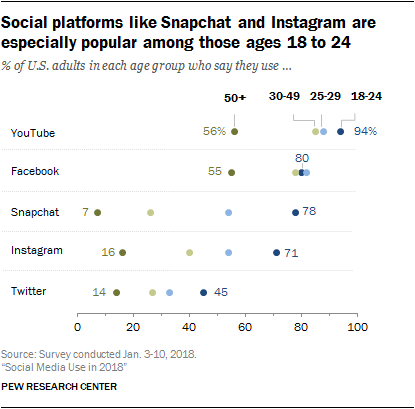 Pinterest is far more popular with women than with men, while LinkedIn use is highest among those with college degrees. WhatsApp, which is popular in Latin America, is used by 49% of Hispanics in the U.S., compared to 21% of blacks and 14% of whites.
Why investors aren't happy with Facebook's numbers
The numbers show that Facebook is still king of the social media world. So why are investors spooked by the company's latest round of numbers? Because the user growth seems to have hit a wall, for one. The number of users was up just 1.54% from the first quarter after many years where growth has held steady at about 3%, TechCrunch reported.
The data privacy scandal and new EU regulations mean that Facebook lost about 3 million users in Europe in the second quarter. The number of U.S. users was flat. The company said it expects most user growth in the future to come from outside of the U.S. and that revenue growth rates will decline through the rest of 2018.
After the earnings call, Facebook's share prices fell nearly 20%, vaporizing $118 billion of Facebook's market value. Mark Zuckerberg's net worth plunged as well, taking him from the third-richest person in the world to the sixth.