How Much Money Do Americans Need to Make Ends Meet?
The current federal poverty level for a family of four is only $23,550 a year, but Americans across the nation say they need more than double that just to make ends meet.
On average, Americans feel they need $58,000 just to get by, according to Gallup's latest poll on perceptions of annual income and necessity. This average reflects the findings that 29 percent of Americans say a family of four needs up to $50,000 in annual income these days, while 47 percent think these families need between $50,000 and $99,999. Ten percent say they need $100,000 or more.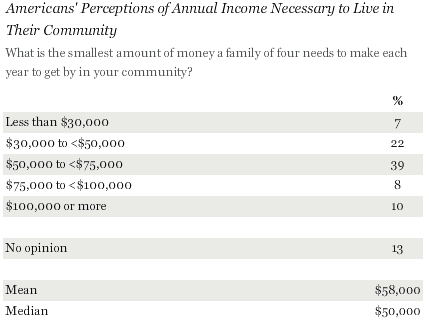 The poll was conducted in mid-April and includes a random sample of over 1,000 adults across all 50 U.S. states and the District of Columbia.
In comparison, Americans said in 2007 that the smallest amount of money a family of four could live on in their community was just over $52,000.
The perception of the amount of income needed appears to be heavily dependent on the household's own income and location. Adults in households earning less than $30,000 say it takes an average of $43,600, but the amount needed jumps to $55,100 among those earning between $30,000 and $74,000. Households earning $75,000 or more say it takes $69,400 to make ends meet.
Interestingly, Easterners and suburbanites tend to report higher income requirements. People in the East say it takes nearly $69,000 to get by, the highest of any region. Southerners have the lowest minimum at $50,300, followed by Midwesterners with $54,500. People in the West say they need $61,800.
Gallup also notes, "Another factor strongly related to perceived income needs is the size of one's community. Suburbanites perceive it takes nearly $75,000 in annual income for a family of four to get by. That's roughly 50 percent more than the $50,100 that residents living in small towns or rural areas estimate is necessary where they live. Similarly, the estimate of adults living in urban areas — either big or small cities — is $53,800. However, suburbanites also report making significantly more in annual income than those in cities or in towns and rural areas. Forty-four percent of those in the suburbs report earning $75,000 or more, compared with about a quarter of city and rural dwellers."
Don't Miss: This Gun Maker Should Send President Obama a Thank You Note
Follow Eric on Twitter (@Mr_Eric_WSCS)