How Much More Will the News Corp. Scandal Cost Fox?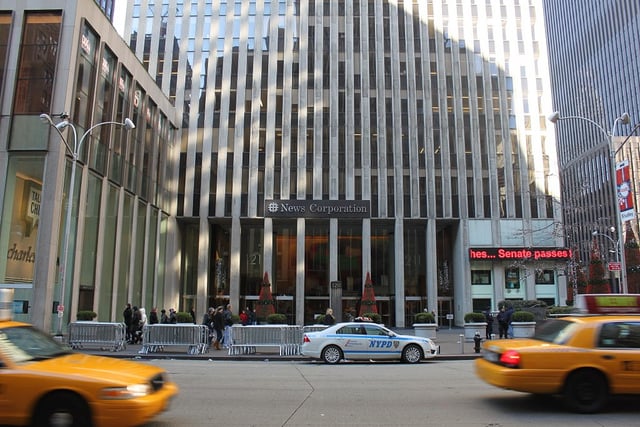 The News Corp. (NASDAQ:NWS) phone hacking scandal led the company to split its entertainment division, now named 21st Century Fox (NASDAQ:FOX), from its struggling newspaper division, which kept the News Corp name. When the two parts were split, Fox agreed to take on some of the legal expenses related to the scandal, which caused the successful U.K. tabloid News of the World to be shuttered in 2011 and landed journalists in jail.
Now, a new report from the Wall Street Journal says that those costs are higher than Fox had been expecting. According to the Journal, Fox has raised its budgeted legal costs by $110 million, though the company wouldn't comment as to what caused the increase. Before the split, News Corp estimated it would need $60 million more to cover legal costs related to the scandal, which charged the company with allowing its journalists to illegally obtain the voicemail messages and emails of celebrities, the royal family, and some British politicians.
Fox said in a filing seen by the Wall Street Journal on Monday that it has recognized $40 million in legal costs thus far. Overall, the scandal costed News Corp $389 million as of March 31 of this year, and apparently that number is going to keep rising.
Back in 2009, it was uncovered that News of the World employees were illegally hacking the phones of celebrities and public officials with the knowledge of the paper's senior staff between 2003 and 2007 while Andy Colson, who has been criminally charged, was editor of the paper. Colson and several other journalists lost an appeal to throw out the charges at the end of June.
The wide-reaching scandal has continued to haunt News Corp. for years. On Tuesday, U.K. prosectors announced they are criminally charging three more News Corp. journalists, along with six of the officials that took their bribes in exchange for information. The officials included as defendants are two prison officials, a hospital employee, and a police officer.
News Corp. head Rupert Murdoch had been under pressure to split the less-profitable newspaper ventures from the media arm of the company for years, but the scandal is widely seen as the tipping point at which the newspaper-loving Murdoch was forced to relent to his critics. Given the reported budget change, it might still be awhile before Fox can completely separate itself from New Corp.'s troubles.
Follow Jacqueline on Twitter @Jacqui_WSCS