How Much of a Pay Raise Did the Financial Industry Get This Year?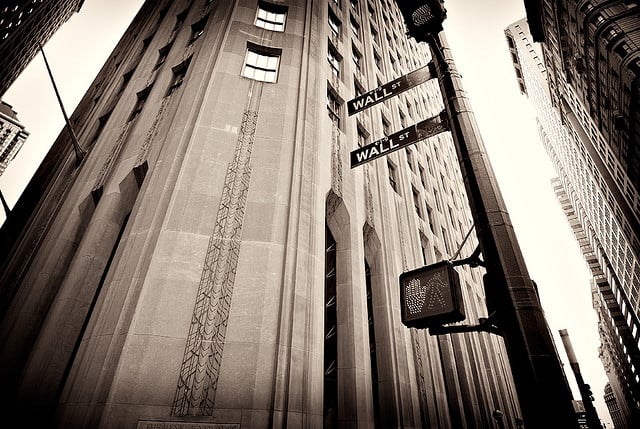 Wall Street pay is on the rise in 2013, both for traders and brokers as well as executives. Executive search firm Options Group released a report today which found that despite recent market volatility, people on the Street are going to be making more than they did last year.
Michael Karp, chief executive at Options Group found that pay could increase as much as 10 to 15 percent this year for some, but noted that such pay was still off its pre-recession highs. The beneficiaries of the advances in pay represent a broad array of financial services employees, ranging from investment bankers to floor traders.
Apparently stock traders have navigated the volatility well, as they look to be the largest recipients of the prosperous pay packages for financial employees this year. Traders can expect a 14 percent increase on average in their compensation this year, with private wealth managers doing equally as well at a 15 percent raise. Risk managers, ironically, only saw their pay increase around 5 percent on average, despite the volatility as the markets contemplate the future of Fed policy in the United States.
The patriarchs and matriarchs of Wall Street are feeling the love as well. Lloyd Blankfein may be considered the king of Wall Street, as he sits atop the compensation ladder, raking in a cool $26 million while leading Goldman Sachs (NYSE:GS). The large salary represents an industry-wide trend of increasing executive pay by 7.7 percent over the last year. Wells Fargo (NYSE:WFC) executive John Stumpf led his firm to a record profit of $18.9 billion, and was rewarded with $19.3 million. The 7.7 increase across 20 top executives in Wall Street represents a combination of salaries, stock, bonuses, and long-term incentive pay.
Some find this troubling, though. Eleanor Bloxham, CEO of Value Alliance Co., says, "All of them are being overpaid. The bank boards still don't have a good handle on how they should be compensating their executives."
Since the passage of Dodd-Frank in 2010, firms have been more closely linking executive pay to stock share performance, and Bloxham feels there are other catalysts not being considered in determining compensation. She cites managing risk, including capital those ratios that measure financial strength as means for awarding the bank leaders their money.
However, Aaron Schultz of Rochester, New York-based Mendon Capital Advisors Corp. finds it logical that Blankfein was so richly rewarded.
"He was at the helm during the crisis, so I don't think he's being paid just for last year. He's being paid for bringing Goldman back. And Goldman is back."