How Much Student Debt Warrants a Crisis?
Whether or not the student debt situation in the United States constitutes a crisis is, technically, up for debate. In May, Joseph Stiglitz — a Nobel Memorial Prize winner in economics and former chairman of the Council of Economic Advisers — joined the chorus of voices warning that a student debt bubble was inflating in America.
Stiglitz drew several parallels between the housing bubble and the student debt bubble. In both cases, he suggested, "Bankers encourage people to borrow beyond their means, preying especially on those who are financially unsophisticated." Critics argue the collapse of the housing market in 2007 was characterized by what amounts to either predatory lending or institutional incompetence — a phenomenon that continues today with student loans.
Stiglitz isn't the only person to compare the student debt crisis and the housing crisis. The Federal Advisory Council, made up of 12 bankers who meet quarterly to advise the central bank, warned that growth in student loan debt has "parallels to the housing crisis." Specifically, that significant growth in subsidized loans has outpaced the actual value of the social good — college education — sought.
More and more people are assuming thousands of dollars worth of debt, without receiving what they thought they paid for.
The American Institute of CPAs recently reported that nearly 39 million adults in the United States had student loan debt at the end of 2012. The number of loans outstanding has increased 70 percent since 2004, and each loan averaged $24,803. As of the first quarter of 2013, the total amount of student debt outstanding was over $950 billion.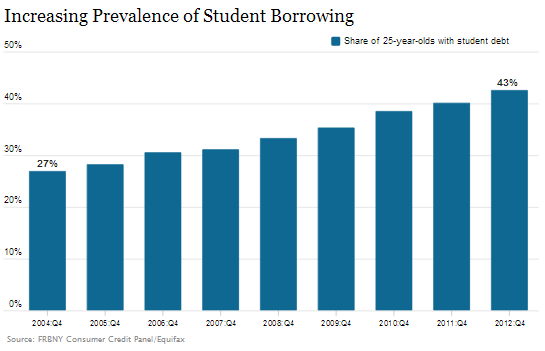 This increase in student borrowing is hardly surprising, but it is concerning. The need for highly-skilled, highly-educated workers has never been higher. Ostensibly, this means that the value of a college degree has never been higher. Students take on debt under the assumption that their education will help them find a job that will allow them to both support themselves and pay off their debt.
Unfortunately, this has been difficult to achieve in the post-recession era. At three to one, the ratio of job seekers to job openings remains problematically high. What's more, the National Employment Law Project showed that while low-wage occupations accounted for 21 percent of recession-era job losses, they accounted for 58 percent of recovery job gains — and while mid-wage occupations accounted for 60 percent of recession losses, they accounted for just 22 percent of recovery growth.
If college graduates can't find a job, or can't get a job that can both support them and allow them to pay off their debt, then there is certainly evidence of a brewing crisis. Entering the real world burdened by debt is a gamble, and the inability to pay it off in a timely way will have a systemic impact on the rest of the economy. Debt repayments cut into consumer spending, a key driver of GDP, and retirement saving, which is in the throes of its own crisis.
What's more, reports indicate that some colleges have failed to provide a meaningful education to students.
In July, a U.S. Senate committee published a massive report criticizing the for-profit education industry. As a whole, the report found that the industry was failing to educate students and place them in jobs. The report uncovered predatory and disingenuous marketing tactics. Bridgepoint Education (NYSE:BPI) has been brought under investigation by the Department of Justice for its recruitment practices, where recruiter compensation was allegedly linked to the number of students enrolled.
The system falls apart when colleges aren't actually providing the services they promised. DeVry (NYSE:DV) and Corinthian Colleges (NASDAQ:COCO) have been battered by the Gainful Employment Act, which is designed to reveal organizations that burden students with debt — i.e. convince them to come to school with promises of job placement — while insufficiently training them for employment.
While it's plain to see that the system of higher education in America is full of holes and debt is a glaring red mark in the system, there are people who downplay the scope of the situation.
Deutsche Bank's Torsten Slok suggests that even though the total amount of student debt has grown substantially over the past few years, most students have a relatively low level of debt.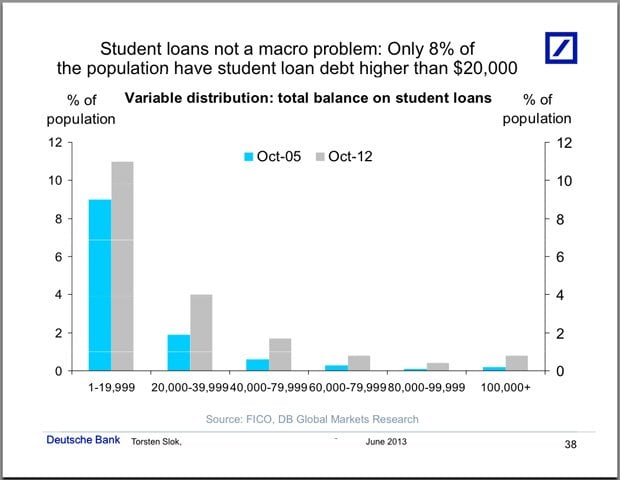 Here is a breakdown of student debt burden from Stiglitz's article in the The New York Times: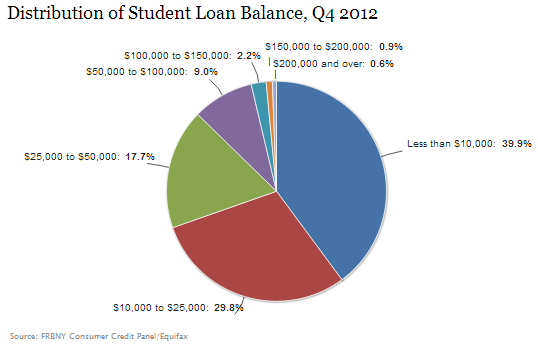 Here's how the market traded on Tuesday: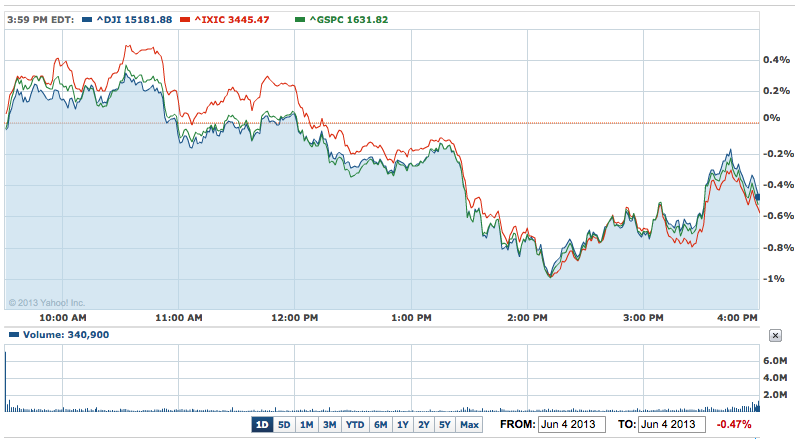 Don't Miss: Will Trade Help or Hurt the Second-Quarter Economy as Deficit Widens?