How Much Will Smithfield CEO Make on Shuanghui Deal?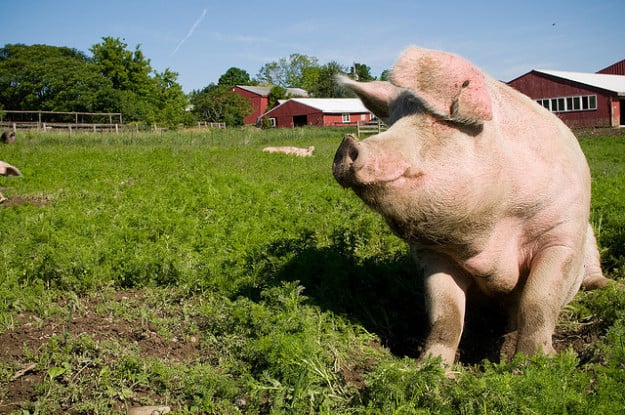 Smithfield Foods (NYSE:SFD) Chief Executive Officer Larry Pope will make a reported $46.6 million from Smithfield's planned takeover by Chinese meat producer Shuanghui International.
The amount was revealed in a filing made with the U.S. Securities and Exchange Commission. Pope is eligible to receive up to $28 million in cash and $18.6 million in equity. Smithfield's Chief Financial Officer Robert Manly is also eligible for up to $22.8 million in merger-related payments.
The filing also revealed that two other companies made bids for Smithfield before it decided to accept Shuanghui's $4.7 billion offer. The deal between Smithfield and Shuanghui is the largest ever Chinese takeover of a U.S. company. Smithfield didn't reveal the names of the other companies, only referred to them as Company A and Company B in the filing.
The Shuanghui buyout has come under scrutiny from Starboard Value. The activist investor wrote a letter to Smithfield earlier this week claiming that the company could receive much more money per share if it split up rather than followed through with the Shuanghui buyout. Smithfield, the world's largest producer of pork and hogs, has received that advice before. Continental Grain, a former shareholder, also believed Smithfield should split up, but decided to sell its entire stake in the company when shares spiked after the Shuanghui buyout was announced. Starboard Value owns a 5.7 percent stake in Smithfield.
The acquisition has also faced opposition from lawmakers and consumers concerned with a potential food safety risk. China has had numerous food safety incidents in recent months, but Smithfield has stressed that the deal will only involve it exporting pork to feed China's growing middle class, not importing any meat products from China.
Smithfield has said it would look into Starboard's suggestion, but believes that the Shuanghui deal is still its best option, as Shuanghui can provide the company with cash right away, while splitting the company up selling the pieces would take more time.
Follow Jacqueline on Twitter @Jacqui_WSCS
Don't Miss: Is McDonald's Ready for a Super-Sized 2013?