How One Man Gained Financial Freedom Through Entrepreneurship
Do you dream of paying down your debt, being able to build substantial wealth, and having enough money left over to not only enjoy but also give back to your community? The good news is financial freedom is within your reach. Through consistent saving, investing, and building multiple income streams, you can achieve your long-term financial goals. One man who made his financial dreams a reality is entrepreneur Brenton Hayden. The founder and CEO of property management firm Renters Warehouse spoke with The Cheat Sheet about his path toward financial freedom.
---
The Cheat Sheet: How did you achieve success in your finances?
Brenton Hayden: Through entrepreneurship I was able to reach my financial goals and dreams. I started a professional landlord service known as Renters Warehouse, which grew to over $15 million in revenue at corporate locations. I eventually sold 28 franchises of my business model to other fellow entrepreneurs, helping them achieve their own personal finance success story, too.
---
CS: What hurdles did you encounter along the way and how did you overcome them?
BH: Starting a business at 21 years of age [in 2007] with no college experience, no entrepreneurial experience, and $3,000 bucks loaned to you from your truck-driver dad are hurdles in of themselves. However, these were just the beginning. It's not a matter of if, but when hurdles will be put in front of you. So be prepared for them — and lots of them. Know the key to success is jumping over all of the hurdles and going around any obstacles put in front of you. Perseverance is key; many will quit at this point. I refused to quit or to be defeated — I pushed through.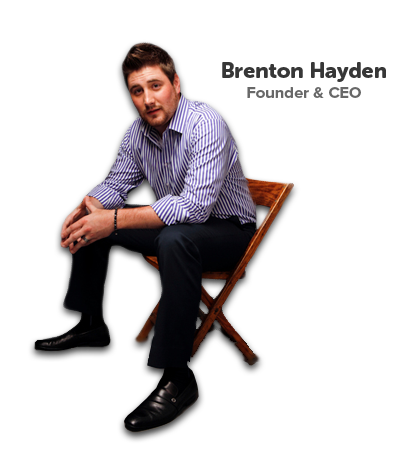 The Cheat Sheet: Where do you see yourself in five years?
Brenton Hayden: In five years I see myself working in my newest passion project, a business around the sport of football, and living the retired lifestyle I always dreamed of.
---
CS: What advice do you have for young people who want to be like you?
BH: Have goals and execute them. Otherwise, what's the point of having dreams and goals if you are going to do very little to achieve them? I focused my whole life on achieving my goals. In order to achieve success, hindsight taught me that you must first be passionate about what you are doing. You must have a plan and a roadmap to where you are going and how you plan to get there. Then you need to have perseverance and gumption. If you can commit to ensuring all three are present before going all in on a project or entrepreneurial venture, you will increase your odds of success dramatically.
Success in business is a lot like a road trip. You need to first have a full tank of gas; this to me is your passion for the project. You will need to tap into this passion for fuel every day to keep pushing forward. Now, think of your plan as your steering wheel, because a plan is the road map that will guide you toward your dreams. And perseverance and gumption? They are the gas pedal. When you're facing adversity or challenges, that's when it's time to press on the accelerator, push on, and get through it.
More from Money & Career Cheat Sheet: