How Slow and Steady is Cisco?
Cisco Systems (NASDAQ:CSCO) reported quarterly financial results that managed to narrowly beat estimates, as the company continues at a slow and steady pace in a fragile global economy.
Late Wednesday, the worldwide leader in networking announced it earned $3.1 billion (59 cents per share) in its fiscal second quarter, compared to $2.2 billion (40 cents per share) a year earlier. Net sales increased a modest 5 percent to $12.1 billion, compared to $11.5 billion in the same period last year.
Excluding one-time charges, Cisco reported earnings of 51 cents per share, up from 47 cents per share a year earlier and 3 cents above analysts' average estimate of 48 cents per share on revenue of $12.06 billion.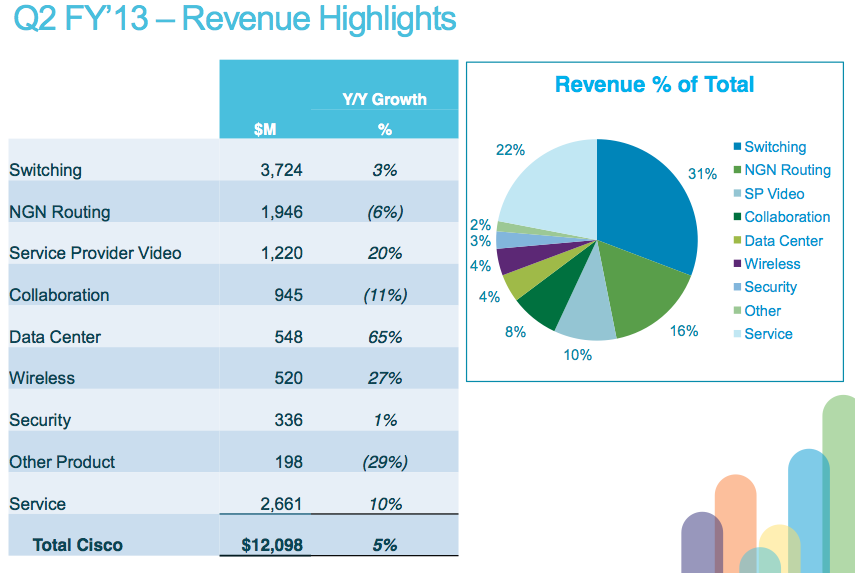 Cisco's bottom line was aided by $926 million (17 cents per share) from tax benefits. Meanwhile, the biggest revenue categories provided a mixed picture. The company's revenue from switches increased 3 percent to $3.7 billion, but router sales dropped 6 percent year-over-year to $1.9 billion. The two categories account for nearly half of Cisco's total revenue.
A few words of caution…
John Chambers, chairman and chief executive officer, noted Cisco's achievement in the quarter, but also followed it with a few words of caution. He explains, "Cisco delivered record earnings per share this quarter and record revenue for the 8th quarter in a row in a challenging economic environment. We continue to drive the innovation, quality and leadership our customers expect, and we remain focused on consistent returns to our shareholders."
Despite predicting a good year ahead, Chambers pointed out that many business leaders were more pessimistic and Southern Europe remained weak. "We are seeing early signs of stabilization in government spending and also in probably a little bit over two-thirds of Europe. But I want to watch that for at least another quarter before I get really excited about it." In an interview with CNBC, he says, "I think what our customers are telling us is a very slow start and steady improvement throughout the year."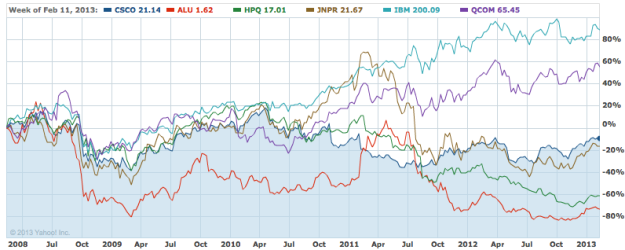 On Thursday, shares of Cisco fell 1.5 percent, making it the worst performer in the Dow Jones Industrial Average. Over the past five years, shares have lagged behind major tech names such as IBM (NYSE:IBM) and Qualcomm (NASDAQ:QCOM), but have outperformed Juniper Networks (NYSE:JNPR), Hewlett-Packard (NYSE:HPQ), and Alcatel Lucent (NYSE:ALU).
Don't Miss: Are New Internet Players Destroying This Company?