How Strong Is Global Gold Demand?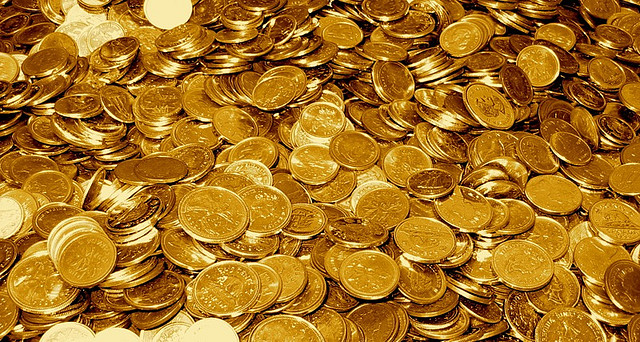 "I don't think anybody has a very good model of what makes gold prices go up or down, but certainly it is an asset that people want to hold when they are very fearful about potential financial-market catastrophe or economic troubles and tail risks," said Federal Reserve Chief nominee Janet Yellen before the Senate Banking Committee last week. "When there is financial-market turbulence, often we see gold prices rise as we see people flee into it."
While the global financial system has been relatively stable this year, investors around the world continue to purchase gold. In the third-quarter, total gold demand reached 868.5 tonnes, worth $37 billion, according to the latest report from the World Gold Council. That was lower than 1,101.4 tonnes a year earlier, and down from 915.3 tonnes in the second quarter.
A heavy amount of outflows from exchange-traded funds was the primary cause of the decline. Demand for ETFs and similar products fell 118.7 tonnes, compared to a rise of 137.8 tonnes in the same year-ago quarter. However, the pace appears to be slowing. In the second-quarter, demand for ETFs plunged 402.2 tonnes.
"Two key themes have emerged during 2013: the rising level of consumer demand off-setting outflows from ETFs, and the geographical flow of gold from western to eastern markets," explains the WGC. The report also notes, "The demand response to the sharp move lower in the gold price during the second quarter was so strong that it resulted in a degree of 'cannibalization' of third quarter demand as gold purchases were brought forward to Q2."
Over the course of only two days in April, gold plunged $200 to reach its lowest level since February 2011. In the process, gold posted its worst one-day percentage drop since 1980, the largest fall in dollar terms on record. On a technical basis, the precious metal reached its most oversold reading since at least 1975.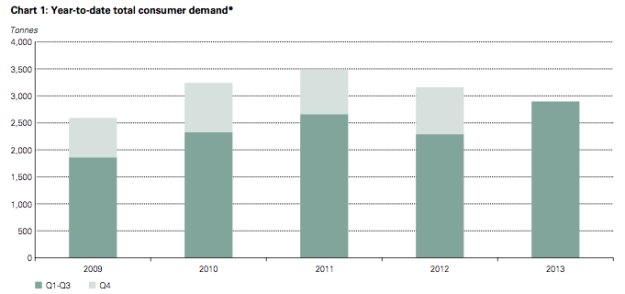 While paper-related gold investments remain out of favor with investors, physical gold experienced heavy demand. Consumer demand for gold jewelry, bars, and coins totaled a record 2,896.5 tonnes for the first nine months of the year. The majority of growth in consumer demand came from eastern markets.
China and India were the two largest gold consumers year-to-date. In fact, consumer demand in China totaled 163.7 tonnes in the third-quarter, while global jewelry demand was 486.7 tonnes, the highest third-quarter haul since 2010. Demand from eastern markets outweighed the west by an impressive multiple of 5.4, compared to the five-year average of only 3.7.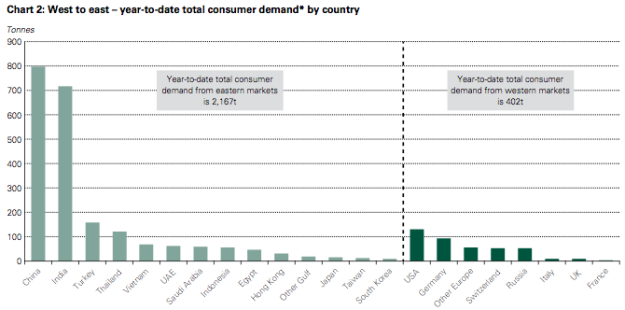 In addition to eastern markets, central banks continue to purchase gold. In the third-quarter, central banks added 93.4 tonnes of gold to their holdings, up from 79.3 tonnes in the second quarter. During the first three quarters of the year, central banks have purchased almost 300 tonnes of gold.
Here's how the major U.S. equity indexes traded on Monday:

Don't Miss: Is the Student Debt Bubble Getting Worse?
Follow Eric on Twitter @Mr_Eric_WSCS
If you would like to receive professional analysis on miners and other precious metal investments, we invite you to try our premium service free for 14 days.
Disclosure: Long EXK, AG, HL, PHYS