How Ugly is the Student Loan Bubble?
While the student debt bubble has yet to pop like housing, more cracks are appearing. New research shows that college loan debt is dramatically rising and becoming riskier than in past years.
FICO (NYSE:FICO), a company that provides analytics including credit scores, recently conducted a study to examine changes in student loans since 2005. To little surprise, the results were quite sobering. The sky-rocketing costs of college have been outpacing inflation for years. As a result, more consumers are taking out student loans to pay for their education. FICO finds that approximately 12 million Americans had two or more open student loans on their credit report in 2005. In 2012, this figure more than doubled to 26 million Americans.
Adding insult to injury, consumers also have a greater amount of student loan debt today. In 2005, consumers in the United States with at least one open student loan on record had an average student debt load of $17,233. However, this debt load increased 58 percent to $27,253 last year. In comparison, all other debt categories combined only grew 4.3 percent.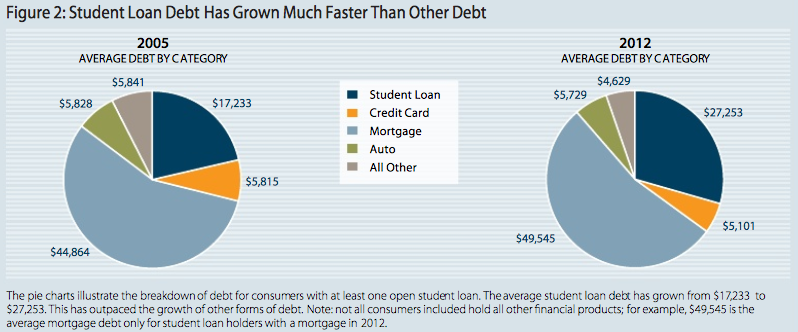 Every student balance level is on the rise…
In addition to higher average balances, the percentage of consumers with student debt has increased at every level. Consumers with student debt under $20,000 increased from 9.0 percent in October 2005 to 11.0 percent in October 2012. Those with student debt in the $20,000 to $39,999 range more than doubled from 1.9 percent to 4.0 percent. Consumers in the ranges of $40,000 to $59,999 and $60,000 to $79,999 also more than doubled over the past seven years.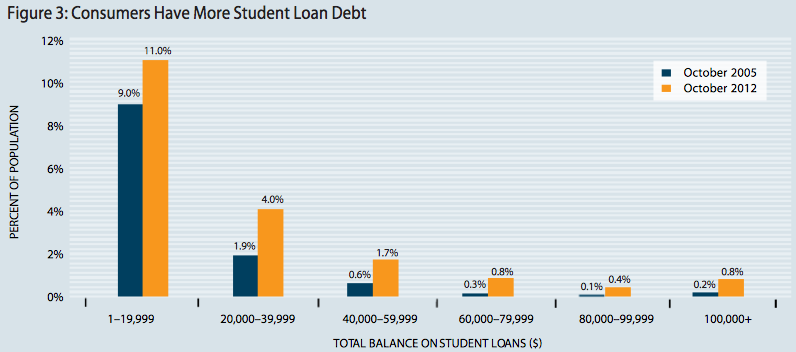 Meanwhile, those with student loan debt in excess of $100,000 quadrupled in the same time period. In other words, there are approximately 1.2 million more consumers with student loan debt in excess of $100,000.
Default rates are also on the rise…
The economic slowdown and weak employment market is taking a toll on the ability to repay loans. Between October 2010 and October 2012, 25.1 percent of student loans were 90 days past due or worse in the account management category, which evaluates the pool of student loans that were opened prior to the observation date. In comparison, only 17 percent of student loans were at least 90 days past due between October 2005 and October 2007. Originations, which evaluates student loans that were opened within three months after the observation date, also increased from 12.4 percent to 15.1 percent.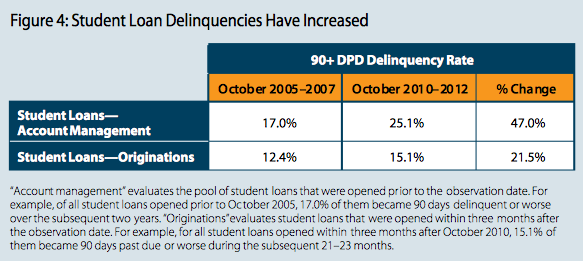 The report explains, "These results are consistent with findings from our quarterly survey of U.S. bank risk management professionals. In fact, in our latest survey, a majority of respondents (59 percent) expected delinquencies on student loans to continue to rise. It was the fifth consecutive quarter that respondents predicted a worsening of student loan delinquencies. Interestingly, most respondents expected delinquencies on every other type of consumer loan to hold steady or decrease, underscoring the highly targeted concern of lenders when it comes to student loans."
More than $1 trillion at stake…
The rising delinquency rates are concerning, especially since the Federal Reserve Bank in New York recently said that outstanding student loan debt is at $870 billion, easily topping total credit card debt and auto loan debt. Moreover, the Consumer Financial Protection Bureau says total student debt outstanding has already surpassed $1 trillion.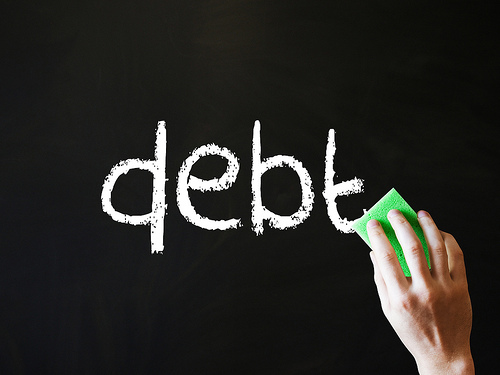 Rohit Chopra, the bureau's student-loan ombudsman, explains, "Young consumers are shouldering much of the punishment in the form of substantial student-loan bills for doing exactly what they were told would be the key to a better life."
According to FinAid, college tuition increases an average of 8 percent a year, meaning the cost of tuition doubles every nine years. It appears that it is only a matter of time before the book closes and pops the student debt bubble.
Don't Miss: Don't Expect Tightening from the Federal Reserve