How Widespread Is the College Debt Epidemic?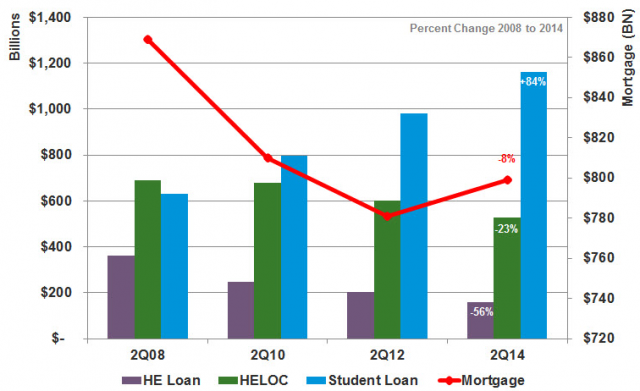 A college degree is quickly becoming synonymous with student debt. As the price of attending college continues to outpace wage gains and saving rates, more people are relying on loans to finance their studies.
The Great Recession delivered a record amount of college debt to Americans. Since 2008, student loan debt has surged by 84 percent to almost $1.2 trillion, according to a new report from Experian. Student loans are now more popular than home equity loans/lines of credit, credit cards, and automotive loans. Mortgage debt remains the largest component of household debt, but approximately 40 million consumers have at least one open student loan, with the average balance totaling $29,000 per consumer.
"What is a really compelling statistic is that the average person has nearly four student loans," said Michele Raneri, vice president of analytics for Experian. "Student loans are the only credit vehicle where a lender continues to extend credit year after year without knowing the person's ability, or even willingness, to pay. The borrower may not yet have had the chance to demonstrate positive payment behaviors, which is a criteria used in other types of lending scenarios."
While student loans can be a prudent investment for those who do their due diligence, they can also become a financial nightmare. The Federal Reserve's latest report on household debt reveals that nearly 11 percent of aggregate student loan debt is at least ninety days delinquent or in default. However, this rate may be significantly underestimated due to various types of grace periods.
In the fine print, the Federal Reserve explains that, "Delinquency rates for student loans are likely to understate actual delinquency rates because about half of these loans are currently in deferment, in grace periods or in forbearance and therefore temporarily not in the repayment cycle. This implies that among loans in the repayment cycle delinquency rates are roughly twice as high."
Making matters worse, student debt is prolonging its life cycle. Between 2005 and 2013, the total amount of outstanding federal student debt among seniors 65 and older grew from $2.8 billion to $18.2 billion, according to the Government Accountability Office. From 2002 through 2013, the number of individuals whose Social Security benefits were offset to pay student loan debt increased about five-fold from about 31,000 to 155,000.
Follow Eric on Twitter @Mr_Eric_WSCS
More from Personal 
Finance Cheat

 Sheet:

Want more great content like this? Sign up here to receive the best of Cheat Sheet delivered daily. No spam; just tailored content straight to your inbox.