How Will Green Concept Cars Play in the U.S. and China?
Between offerings at the L.A. Auto Show and Tokyo Motor Show, the world's leading automakers flashed glimpses of a future that may not be so far away. In fact, the world's two biggest auto markets of China and the United States are facing an obligation to adopt green car technology. Issues with pollution in both huge countries are providing an opening to automakers with fuel-cell vehicles and battery-powered cars in production.
Toyota (NYSE:TM), the world's leading automaker, introduced numerous green car concepts at the Tokyo Motor Show. Grabbing the headlines was the FCV, the fuel-cell vehicle that Toyota hopes to produce by 2015. As different companies jockey for position in zero-tailpipe-emissions cars, Toyota is putting its money on hydrogen fuel cells rather than lithium-ion batteries to power electric motors.
While the Toyota FCV made waves in Tokyo, Toyota showed off its Lexus CT 200h in Guangzhou, site of a third November auto show in China. The Lexus is a hybrid that gets over 40 mpg, much like the Prius hybrids the automaker presented around the world at different shows. Meanwhile, Nissan (NSANY.PK) brought its futuristic BladeGlider (seen above) to Tokyo.
The Nissan BladeGlider is a three-seat vehicle with a triangular formation of two back seats and a single front seat for the driver. Audiences in Tokyo marveled at the falcon wings as well as the twin electric motors located in the rear wheels of the vehicle, both of which are powered by lithium-ion batteries.
Honda (NYSE:HMC) and Hyundai (HYMLF.PK) both brought fuel-cell vehicles to the show floors of the L.A. Auto Show, with Hyundai's Tucson crossover set to make its debut in Southern California early in 2014. Automakers clearly have an opening in California as emissions caps force the industry in a greener direction. In reality, Honda already has a fuel-cell vehicle on the road with its FCX Clarity, but limitations in hydrogen fueling are making widespread distribution impossible.
Hyundai will test the waters along with Honda when it brings its Tucson to the market soon, but skeptics like Tesla's (NASDAQ:TSLA) Elon Musk don't see the technology as viable or safe in the near future. Ironically, it's the same complaints many critics of the battery-powered electric vehicles have lodged against the Tesla Model S. Yet the realities of the largest auto markets will play a huge role in the evolution of green vehicles.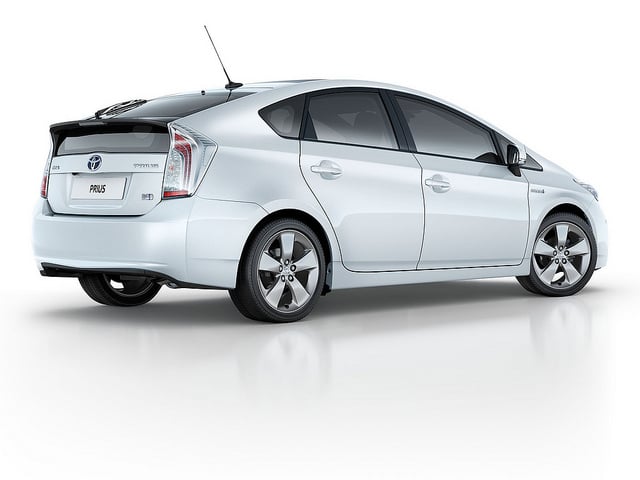 According to The Japan News, Toyota has a goal of selling one million vehicles in China in 2014. Toyota sees an edge there the same way it dominates the California market with models from its hybrid Prius line. Reports of China increasing emissions regulations have been circulating for months, while Chinese car companies have not found a way to capture a large part of the domestic market.
Foreign automakers such as Toyota, Nissan, and Honda see the opportunity to take a big chunk of the market as green cars become more coveted in China. Tesla also has reason to believe its luxury cars will find an audience in China, as they have in California. The market for cars once considered outlandish and eccentric is changing rapidly. Environmental realities and government regulations in both China and the United States are pushing green concept cars from global auto shows into the real world.
Don't Miss: 9 Cars Stealing Global Auto Show Thunder.