How Will This Bomb Hurt the United States?
A report issued by London-based Fitch Ratings on Monday predicted that the "age bomb" in developed countries, including the United States, will impede long-term fiscal recovery; the aging populations will aggravate government indebtedness and could hurt credit ratings unless labor and pension reforms are enacted.
"Whilst a successful resolution of the current fiscal crisis remains the most important driver for many advanced-economy ratings, without further reform to address the impact of long-term ageing these economies face a second, longer-term fiscal shock," read the report's accompanying press release.
Start 2013 better than ever by saving time and making money with your Limited Time Offer for our highly-acclaimed Stock Picker Newsletter. Click here for our fresh Feature Stock Pick now!
The effect the retirement of the baby boomer generation will have on government finances has long been a concern, and for good reason. By 2050, the "elderly dependency ratio," or the measure of the number of elderly people as a share of those of working age, in the 34-nation Organisation for Economic Co-operation Development (OECD) is expected for rise from the 14 percent recorded in 2012 to more than a third. As a result of that trend, Fitch expects the average government budget to worsen by 0.6 percentage points in the next eight years and by 4.9 percentage points by 2050.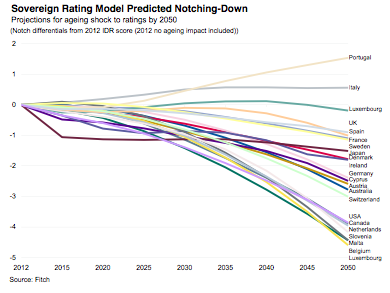 Countries with more unfavorable demographics, lower retirement ages, longer living expectations, and larger pension promises will be particularly hurt by the age bomb. According to Fitch's report, European countries are especially in danger, and if no reforms are made, the average debt-to-gross domestic product of the European Union's 27 members will increase by 6.9 percentage points by 2020.
Credit ratings, already pressured from the financial crisis, will be impacted further as the fiscal burden of older populations grows. The ratings agency's model predicted that the most-susceptible countries, like the United States, will be downgraded an average of 1.5 notches by 2030.
"Japan, Ireland and Cyprus face the most urgent challenge, while Luxembourg, Belgium, Malta and Slovenia face the most severe impact without reform," said Fitch.
Don't Miss: Federal Reserve: Yes, We Made These Huge Mistakes in 2007.