Howard Schultz on Bill Ackman Email: "A Despicable Act"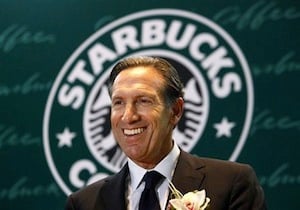 Howard Schultz, Starbucks' (NASDAQ:SBUX) chief executive officer, sent some strong barbs toward Bill Ackman, the billionaire hedge fund manager at Pershing Square Capital Management, on Friday. Ackman has recently mounted a very public campaign seeking to replace J.C. Penney's (NYSE:JCP) CEO and chairman of the board, which reached a fever pitch when an email went public on Thursday.
"What, I think, we all witnessed over the last 24 hours is such a despicable act," Schultz told CNBC's Closing Bell. He called it "something so irresponsible that a board member of an existing public company would release and leak an email without sharing it with the board or the CEO is beyond comprehension."
The strong words were referring to a three-page letter that Ackman released on Thursday, which urged J.C. Penney to replace the current chairman Thomas Engibous. Ackman has also aggressively pushed to replace current CEO Myron Ullman who was brought back to the company in April to try and turn the company's fortunes around. He is pushing for the retailer to name a top executive in 30 to 45 days commenting that the current CEO search has moved at too slow a pace.
However, Schultz thinks its more than a little ironic that Ackman is the one calling for changes when it was his pick for CEO, Ron Johnson, who Myron Ullman was brought in to replace amid slumping sales.
"Ackman was the primary engineer and architect of recruiting Ron Johnson to the company, and he and Ron Johnson pulled off this strategy that has fractured the company and ruined the lives of thousands of J.C. Penney employees and fractured shareholder value," said Schultz.
Schultz believes that Ullman needs more time to show whether he can turn things around or not. While Ullman serves on Starbucks' board, Schultz stated that he is not a J.C. Penney shareholder and has not met Ackman.
Don't Miss: JCP's Struggle Has Frustrated Ackman; Here's His Plan.