Howard Stern Loses Sirius Appeal and 2 Other Heavily Traded Stocks
Sirius XM Radio (NASDAQ:SIRI): Current price $3.16
Bloomberg is reporting that Howard Stern lost a bid to revive his pay lawsuit against Sirius XM Radio, following a ruling by a New York state appeals court that he was not entitled to additional compensation. Stern's production company, One Twelve, along with his agent, Don Buchwald, brought a lawsuit against Sirius XM Radio in 2011, saying that the company refused to pay $300 million in stock awards owed under an agreement that brought the radio personality to it. Justice Barbara Kapnick of state Supreme Court threw out the suit last April, turning aside arguments that subscribers to XM Satellite Radio, which merged with Sirius in 2008, should be counted when calculating the compensation.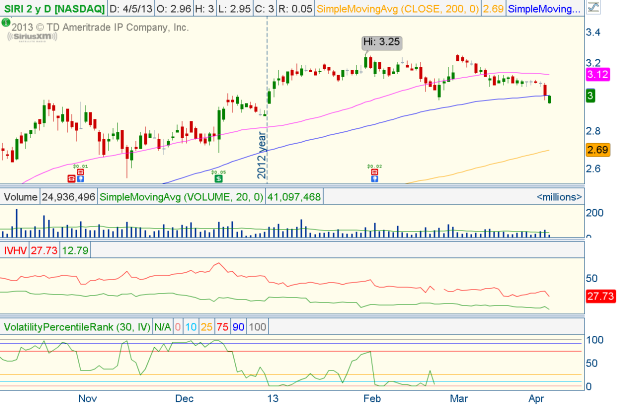 Ford Motor Company (NYSE:F): Current price $13.54
Ford has commenced full-scale output of the Explorer SUV overseas for the first time at its Ford Sollers joint venture plant in Russia, according to Detroit Free Press. Up until now, all Explorers have been made in Chicago and exported worldwide. The automaker had been meeting growing demand for the SUVs in Russia by sending Explorer pieces and parts in kits there to be assembled and sold, but that changed Thursday with the begining of full-scale production of Explorers for sale in Russia from the plant in Tatarstan. This move eases some of the pressure on the Chicago plant that is operating with three shifts and overtime to satisfy increased domestic demand.

MetroPCS (NYSE:PCS): Current price $11.31
Deutsche Telekom has bowed to pressure from MetroPCS shareholders and hiked its bid for the wireless carrier, which might save a merger that was in danger of being derailed this week. The German telecom giant said late on Wednesday that it submitted its "best and final offer," winning the initial support of at least two major MetroPCS shareholders. The revised terms look to some common worries raised by shareholders. The amount of debt that will be transferred to the combined company was reduced by $3.8 billion, as the interest rate on that debt was cut by half a percentage point.

Investing Insights: Should You Take A Chance With NVIDIA?