HP Announces German Restructuring Plans and 3 Dow Movers Making Waves
General Electric Company (NYSE:GE): Current price $22.48
In Russia, GE Transportation, Locorail and Yakutia Railways have signed a Memorandum of Understanding through which to explore the formation of a strategic relationship to modernize diesel electric locomotives. The MOU creates a framework by which Yakutia Railways, under GE license, will modernize diesel electric locomotives at Yakutia Railways facility in Aldan, Russia employing GE FDL engine kits made at GE Transportation facilities in Erie and Grove City, Pennsylvania. Through the terms, GE Transportation will provide at least 20 FDL engine kits per year over five years.
Hewlett-Packard Company (NYSE:HPQ): Current price $16.62
HP will restructure its Enterprise Services division in Germany as part of its global multiyear restructuring plan that was announced in May 2012 and further detailed at its Securities Analyst Meeting in October.
Are these stocks a buy or sell? Let us help you decide. Check out our Stock Picker Newsletter now.
International Business Machines Corporation (NYSE:IBM): Current price $205.11
IBM will spend almost $15 billion on deals through 2015, which could make NetApp (NASDAQ:NTAP) and Splunk takeover candidates, according to Bloomberg. The corporation is searching for acquisitions after its sales increased by 0.8% in four years, marking the worst rate since the period that ended in 2002, say Bloomberg data.

Intel Corporation (NASDAQ:INTC): Current price $
Intel now insists that all Haswell-platform ultrabooks be supplied with touch panels, says Digitimes, which cited the Taiwan-based supply chain makers who said that the strategy could help step up the penetration of touchscreen notebooks.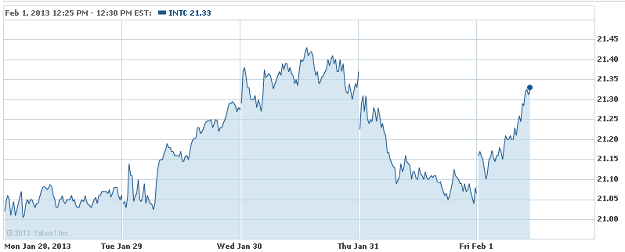 Don't Miss: Apple Dominates Online VOD Market.