HP Customers Adopt Converged Cloud Portfolio and 2 Other Dow Movers to Watch
Hewlett-Packard Co. (NYSE: HPQ): Current price $24.99
HP announced that its Converged Cloud portfolio has gained significant customer adoption since it was launched in 2012, permitting enterprises worldwide to enhance agility, speed innovation, and to reduce costs. The company announced its cloud strategy in March 2011, and in April 2012, it consolidated its cloud offerings into the HP Converged Cloud portfolio, offering to the industry the first hybrid delivery model based on a common architecture spanning traditional information tech, private, managed, and public cloud. Since then, HP has continued to invest in creating technologies for organizations so that they may confidently build, operate and consume IT across all cloud delivery models.

Johnson & Johnson (NYSE:JNJ): Current price $85.73
Johnson & Johnson recently supplied an update on its pharmaceutical unit, while it looks to reinforce its pharma product portfolio, and intends to file for the approval of over 10 new products and in excess of 25 line extensions during the next 4 years. IMS Health reports that the global pharma market, which was worth roughly $963 billion in 2012, is on track to grow at about 4.5 percent yearly to around $1.2 trillion by 2017. Further, IMS Health said that Johnson & Johnson's pharma business was the most rapidly growing in the United States, Europe and Japan last year, when it spent approximately $7.7 billion on research and development. The company's primary focus areas include: Neuroscience, Cardiovascular and Metabolism, Immunology, Oncology and Infectious Diseases/Vaccines.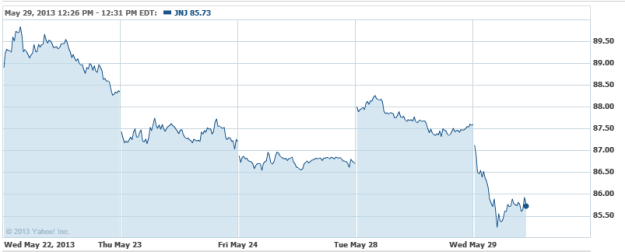 JPMorgan Chase & Co. (NYSE:JPM): Current price $54.67
JPMorgan has appointed the former United States Treasury Department official Darius Kingsley as its co-general counsel of mortgage banking. Kingsley was the agency's head of the homeownership preservation office and had served as senior counsel for the Office of Financial Stability, according to the firm in a statement. He will share duties with Denise DesRosiers, who was deputy general counsel of mortgage banking.

Don't Miss: Are Tablets the Future of Personal Computing?