HP Networking Chosen By Ontario Hospital Group and 2 Other Dow Movers to Watch
Hewlett-Packard Co. (NYSE:HPQ): Current price $24.27
On Wednesday, HP said that Niagara Health System, which is Ontario's number-one multi-site hospital amalgamation, has chosen HP Networking solutions to expand service delivery, optimize network performance, and facilitate its information tech infrastructure. The system is comprised of six hospital sites that serve 434,000 residents in 12 municipalities in the Regional Municipality of Niagara. Recently, the NHS finished the on-time and on-budget construction of a  new, almost one-million square foot hospital in St. Catharines, so as to handle the increasing healthcare demands in that region.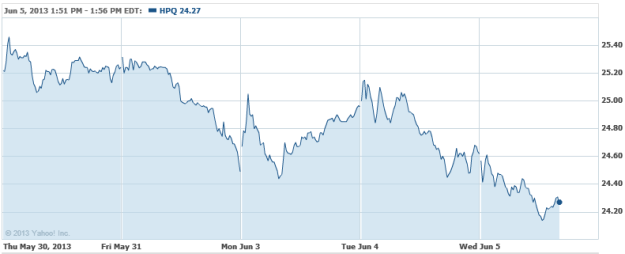 E.I. DuPont de Nemours and Company (NYSE:DD): Current price $54.75
A new DuPont report, composed in a joint effort with FORTUNE's Content Marketing and Strategies Group, concentrates on helping China keep up its rapid rate of urbanization without impacting public safety, health, and environmental protection, via the use of integrated science. The report say that, according to research managed by the McKinsey Global Institute, China's urban economy could produce over 90 percent of that country's economic output by the year 2025. Beyond that, McKinsey estimates that by 2025, 13 of the world's 25 fastest growing cities will be in mainland China.

UnitedHealth Group (NYSE:UNH): Current price $62.05
The company will hike its dividend by 32 percent on Wednesday, and also authorize an additional 110 million shares to be purchased as part of a prior repurchase program. The insurer's dividend of 28 cents, which is up from the previous 21.25 cents, will be paid June 26 to shareholders on record as of June 7. UnitedHealth Chief Executive David Wichmann said in a statement that "The board's actions reflect the company's growth and consistent financial  performance, driven by market demand for our expanding array of health benefits  and services." This renewed repurchase program supplants the remainder of the June 2012 authorization, of which 63 million shares were remaining as of May 31.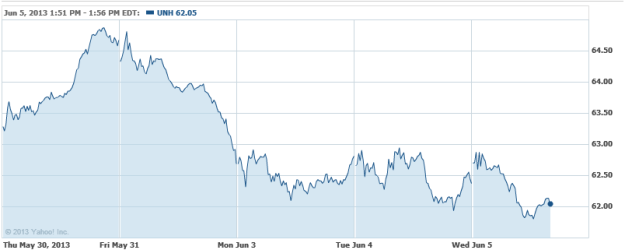 Don't Miss: Apple Nation Is Growing Ranks Rapidly.