HP Slides On Blackstone Pullout and 2 More Dow Movers to Watch
Hewlett-Packard Co. (NYSE:HPQ): Current price $19.68
HP shares took a dive on word that private equity firm The Blackstone Group (NYSE:BX) elected to not to submit a takeover offer for Dell (NASDAQ:DELL), which is its largest competitor. Along with a number of partners, Blackstone had endeavored to form an offer for Dell.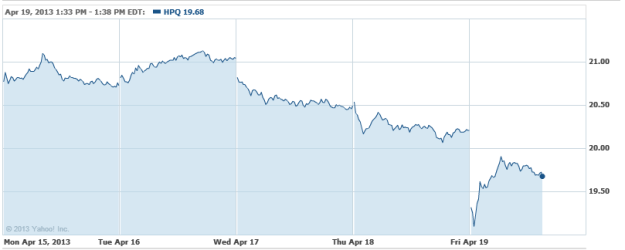 International Business Machines Corporation (NYSE:IBM): Current price $190.57
Disappointing first-quarter results released late on Thursday, that missed Wall Street expectations thanks to shortfalls in tech spending, along with other factors, sent shares down Friday. Analyst Brian White at Topeka Capital Markets, in a research note to investors, said that "IBM's disappointing 1Q performance speaks to the weakening of IT spending environment. If IBM is having challenges, we expect more pain across the IT environment in the coming weeks."  Meanwhile, IBM's Chief Financial Officer Mark Loughridge, explained that his company experienced "a shortfall in its software and mainframe business." Beyond that, the firm was unable to close "some large transactions," which it now hopes to close in the current quarter, according to IBD.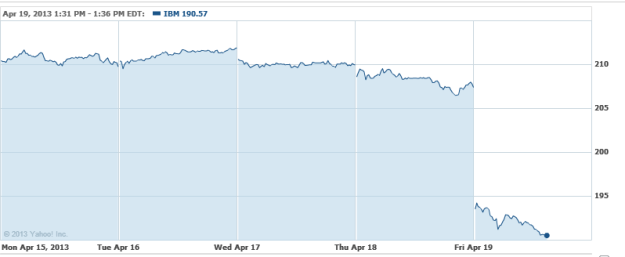 E. I. DuPont de Nemours and Company (NYSE:DD): Current price $48.89
The chemical major has received the "Patents for Humanity" award from the United States Patent and Trademark Office  for its research efforts to enhance nutrition, output and availability of sorghum, Africa's staple crop. The program rewards firms who provide life-saving technologies to underserved people of the world, while exhibiting out the importance of patents and showing how they form an integral part of tackling the world's challenges. The award came after a competition to recognize patented technologies which address humanitarian needs.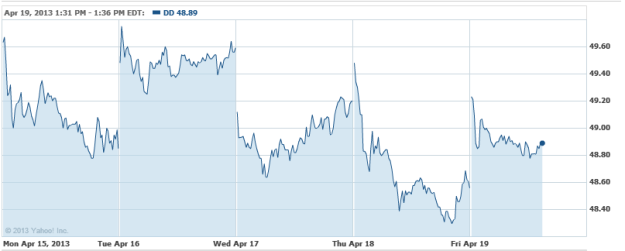 Don't Miss: Rumored iWatch Already Has Interested Customers.