HP Tumbles Over PCs, Yahoo Beats Google: Market Recap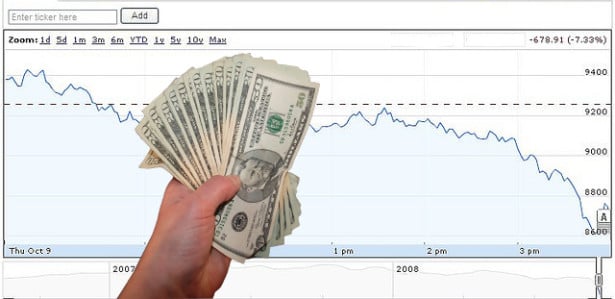 U.S. stocks rose Thursday despite a computer glitch that caused the Nasdaq to stop trading for three hours this afternoon. Trading on the Nasdaq index stopped between 12:20 p.m. and 3:25 p.m. EST in New York. Meanwhile, positive data on manufacturing and the labor market gave more signs that the economy is improving.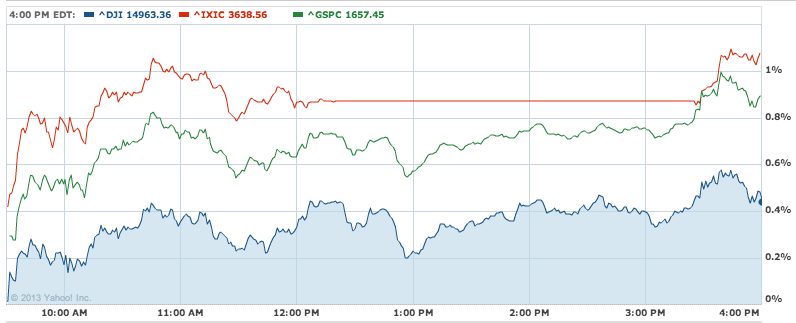 Gold: +0.32% to $1,374.50 per ounce; Oil: +0.04% to $105.00 per barrel; U.S. 10-Year: +1.61 to 2.901%.
Weak Weekly Numbers Aside, Jobless Trend Stays Positive: In keeping with the slightly improving, slightly shaky trend that has characterized the measure of weekly jobless claims recently, Thursday's report from the Department of Labor showed another uptick in initial claims for unemployment benefits… (Read more.)
Don't Taper Too Fast: Manufacturing Is Just Getting Back in the Game: The U.S. manufacturing sector continued to improve in August. Markit's Flash U.S. Manufacturing PMI rose 0.2 points to a five-month high of 53.9 in August, signaling that the sector is expanding at an even faster rate than before. The indexes for output, new orders, employment, output prices, and quantity of purchases all expanded at a faster rate in August than in July… (Read more.)
Here's President Obama's Better Bargain for Students: Step by step, President Obama is laying down the cornerstones of his Better Bargain for the Middle Class, a campaign designed to build the framework for a post-crisis American economy. The White House on Thursday released a fact sheet outlining the president's plan for education reform, the third cornerstone… (Read more.)
Here's your cheat sheet to Thursday's top stocks stories.
UPS (NYSE:UPS) — one of the largest employers in the United States and the world's biggest parcel deliverer — plans to eliminate health benefits for approximately 15,000 working spouses of white-collar employees, according to a company memorandum published by Kaiser Health News… (Read more.)
Hewlett-Packard (NYSE:HPQ) CEO Meg Whitman said in the company's earnings press release, published Wednesday: "I remain confident that we are making progress in our turnaround. We are already seeing significant improvement in our operations." But to Wall Street, the 8 percent drop in GAAP net revenue and the 14 percent decline in adjusted earnings suggested that the computer company was not making as much progress in its turnaround as hoped… (Read more.)
Yahoo (NASDAQ:YHOO) was named the top U.S. Web property thanks to the number of unique visitors it registered in July — a figure that sat at an estimated 197 million after only reaching 189 million visitors in June. Google (NASDAQ:GOOG) came up short of Yahoo for the first time in years, posting 192 million unique visitors after registering 193 million in June… (Read more.)
Microsoft's (NASDAQ:MSFT) bribery investigation by the Securities and Exchange Commission and the U.S. Department of Justice has been expanded to include Microsoft's operations in Pakistan and Russia in addition to operations in Romania, Italy, and China that were already being evaluated, according to a report from The Wall Street Journal, which first broke the story… (Read more.)
GameStop Corp. (NYSE:GME) shares are up as earnings per share of 9 cents beat estimates by 5 cents and revenue of $1.38 billion beat by $0.03 billion. Mobile sales (+124 percent) and digital sales (+17 percent) performed admirably, though software and hardware sales declined. Executives with the company believe that the firm's strong gains in market share and a new console cycle have positioned the company well for a strong second half of the year… (Read more.)
Abercrombie & Fitch (NYSE:ANF) posted disappointing earnings Thursday, causing shares to tumble over 17 percent. Earnings per share fell 20 percent from 20 cents a year ago to 16 cents, missing analyst estimates that had expected the figure to grow to 28 cents. Revenue fell slightly to $945.7 million, short of the average expectation of $996 million. The retailer blamed the shortfalls on bad weather and "continued softness in the female business."
Follow Jacqueline on Twitter @Jacqui_WSCS
Don't Miss: Growth Forecast Dimming, Anxious HP Shuffles Leadership.