HP Updates Supplier Guidelines and 2 Dow Movers Turning Heads
General Electric Company (NYSE:GE): Current price $22.48
Chief Executive Jeff Immelt says that political fighting in Washington fails to alter the way big firms like his invest and operate, but that "the burden of uncertainty" falls most solidly on small and medium businesses, according to The Washington Post.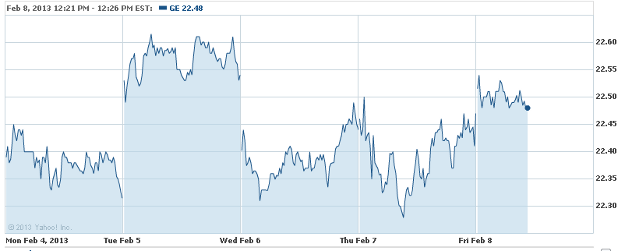 Hewlett-Packard Company (NYSE:HPQ): Current price $16.76
HP has announced new guidelines and measurement processes for its vendors with operations in China. The company's new guidelines for student and temporary workers, created in consultation with top stakeholders like China's Center for Child Rights and Corporate Social Responsibility, reinforce regulatory mandates while at the same time introducing additional "beyond regulatory" expectations for suppliers. All labor must be voluntary, local regulations must be reinforced or surpassed, and all regulations concerning legal working age, work environment, working hours, and contractual and term limits for student and temporary workers will be reinforced.
Are these stocks a buy or sell? Let us help you decide. Check out our Stock Picker Newsletter now.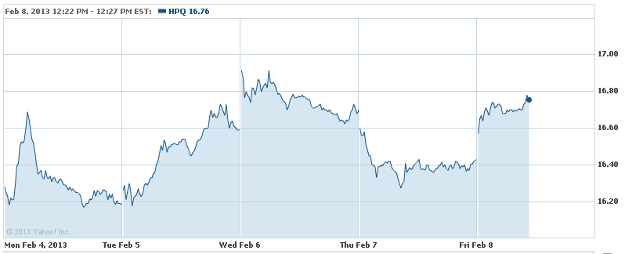 Johnson & Johnson (NYSE:JNJ): Current price $75.37
A surgeon in Montana has testified that he ceased the use of Johnson & Johnson's ASR all-metal hip device eight months prior to the recall because a sales representative warned him about problems with the implant, says Bloomberg. Peter Wendt affirmed that he implanted 76 ASRs, including one in Loren Kransky, 65, of Montana. Kransky's lawsuit is the first of 10,000 to go to court in regards to claims that J&J's DePuy unit defectively designed the 93,000 hips recalled in August 2010, and did not warn of the risks. For its part, the firm denies that it defectively designed the device or that it contributed to the health problems of Kransky.

Don't Miss: Activision Rounds Out Strong Year-End for Game Publishers.