HSN Inc. Earnings: The Strategic Business Plan is Working
HSN, Inc. (NASDAQ:HSNI) reported net income above Wall Street's expectations for the first quarter. HSN, Inc. is an interactive multi-channel retailer offering retail experiences on TV, online, in catalogs and in retail and outlet stores through its two operating segments, HSN and Cornerston.
Don't Miss: Wall St. Cheat Sheet's newest Feature Trades of the Month!
HSN Inc. Earnings Cheat Sheet for the First Quarter
Results: Net income for the catalog and mail order house rose to $20.3 million (34 cents/share) vs. $17.7 million (30 cents/share) in the same quarter a year earlier. A rise of 14.9% from the year earlier quarter.
Revenue: Rose 6% to $724 million YoY.
Actual vs. Wall St. Expectations: HSNI reported adjusted net income of of 41 cents/share. By that measure, the company beat the mean estimate of 26 cents/share. Estimates ranged from 24 cents per share to 28 cents per share.
Quoting Management: "Our focus on maximizing performance through innovative product launches and events, strategic partnerships and increased digital efforts led to HSNi sales growth of 6%, e-commerce sales penetration of 40% and an Adjusted EPS gain of 14%," said Mindy Grossman, CEO of HSN, Inc. "We are committed to positioning our business for long-term success by delivering on our strategy of offering unique products and experiences, deepening customer engagement and accelerating e-commerce growth across the portfolio."
Key Stats:
Gross margins expanded last quarter, rising 0.5 percentage point to 35.1% from the year earlier quarter. This snaps a streak of two consecutive quarters of shrinking margins.
Over the last five quarters, revenue has increased 8.4% on average year over year. The biggest increase came in the third quarter of the last fiscal year, when revenue rose 10.5% from the year earlier quarter.
Competitors to Watch: ValueVision Media, Inc. (NASDAQ:VVTV), Liberty Media Corp (NASDAQ:LINTA), eBay Inc. (NASDAQ:EBAY), Gaiam, Inc. (NASDAQ:GAIA), Overstock.com, Inc. (NASDAQ:OSTK), The Parent Company (KIDSQ), Amazon.com, Inc. (NASDAQ:AMZN), Hot Topic, Inc. (NASDAQ:HOTT), BIDZ.com, Inc. (NASDAQ:BIDZ), and Stamps.com Inc. (NASDAQ:STMP)
Stock Performance: Shares of HSNI are up 2.5% from the previous close.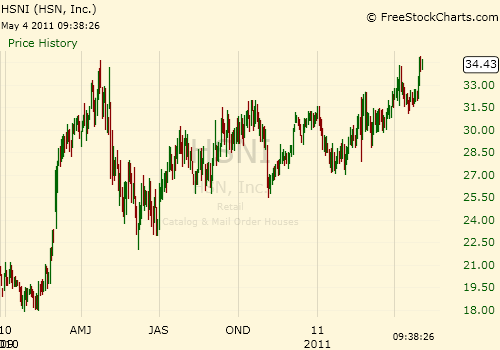 Don't Miss Wall St. Cheat Sheet's newest Feature Trades of the Month!